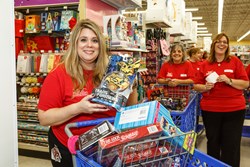 "Health First strongly believes in giving back to our community," said Health First President & CEO Steve Johnson.
Rockledge, FL (PRWEB) December 07, 2013
Health First continues its commitment to giving back to the community by helping make the holidays special for children in need. Health First partnered with the South Brevard Sharing Center to help fulfill holiday wish lists for Brevard County kids and teens who would otherwise not be celebrating the holidays with gifts. Through the Health First Community Benefits Program, Health First associates and volunteers from the Sharing Center went shopping at the Toys"R"Us in Melbourne to purchase gifts for the "Children Without Christmas Toy Drive."
Almost 400 gifts were purchased during the event—including everything from scooters to dollhouses to games to action figures to remote control trucks. Items were loaded onto the Sharing Center's truck and will be delivered to the children before Christmas Day.
"Health First strongly believes in giving back to our community," said Health First President & CEO Steve Johnson. "Seeing all of the toys being loaded into the truck was quite moving, knowing how much this will impact the people who receive them. Helping to ensure others have a joyful holiday season is something Health First feels passionate about."
Health First Community Benefits Program works with several non-profit agencies year-round. In 2012, Health First's support of the community totaled more than $118 million.
About Health First
Founded in 1995, Health First is a fully integrated health system. The not-for-profit employs more than 7,500 people and has four hospitals (including Holmes Regional Medical Center, Palm Bay Hospital, Cape Canaveral Hospital and Viera Hospital). Health First Health Plans also offers a wide variety of health insurance plan options for Brevard and Indian River Counties. In addition, Health First is home to Brevard County's only Trauma Center. Health First Medical Group is the largest multi-specialty physician group on the Space Coast. Health First offers numerous outpatient and wellness services, including four Pro-Health and Fitness Centers. Visit http://www.Health-First.org for more information.
About South Brevard Sharing Center
The South Brevard Sharing Center Inc. (SBSC) was founded in 1971 as a non-profit, community based agency whose mission is to provide basic needs assistance to help families in South Brevard County, FL. This assistance includes food, clothing, household items, and financial vouchers for prescriptions, utilities, rent, and other miscellaneous items through case managed services. Seasonally, the Sharing Center also provides Christmas gifts and holiday meals for Thanksgiving, Christmas and Easter, as well as back packs with supplies for children to start the new school year. SBSC's mission to provide basic needs services to low or no income individuals and families with children, serve as a liaison between religious, civic and local organizations, and provide an outlet to persons with abundance to readily share financial surplus with those financially less fortunate. For more information, visit http://www.mysbsc.org.