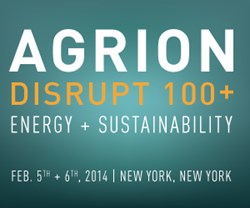 Our Disrupt 100+ conference not only serves as an educational tool for firms, but it is also an arena for thought-leaders to network and coordinate future projects together...
New York, NY (PRWEB) December 11, 2013
AGRION is hosting their 2nd annual Energy & Sustainability Summit in New York City on February 5th and 6th at the Metropolitan Pavilion. Disrupt 100+ will bring together leaders in energy, infrastructure, and sustainability with exciting emerging technologies poised to drive change to the global economy The event will feature over 75 speakers, dozens of exhibitors, and be attended by representatives from over 600 unique firms representing the best and brightest in the energy and sustainability industries to discuss issues such as the importance of increasing renewable energy, developing zero waste practices, deploying corporate sustainability, and developing net zero and positive energy buildings.
The theme of this year's Summit is disruption. With increasing energy demand and growing risks brought about by climate change, we cannot afford to stick with old paradigms. The conference will touch upon new alternative financing mechanisms for renewable energy and energy efficiency, disruptive technologies and energy business frameworks for transactive energy, and ways deploy corporate sustainability strategies across different industries.
The summit will showcase over 100 of the most promising startups in the energy and sustainability sectors, feature panel discussions with industry thought leaders from PwC, Skanska, AECOM, Booze Allen Hamilton, and more, as well as tours and an interactive technology exposition. Conference attendees will get the opportunity to network with other industry experts to develop prospective client relationships and business partners.
Last year, AGRION assembled over 300 leading companies in both the domestic international markets for their 1st Energy & Sustainability Summit. Keynote speakers included Richard Kauffman, New York State's Chairman of Energy & Finance, and Ralph Izzo, CEO of PSE&G. The event attracted a variety of company types: including investors, developers, government representatives, property owners, and facilities managers. Industry leaders from the United Nations Foundation, Google, the U.S. Department of Commerce, NASDAQ, and Skanska were all in attendance.
"Our Disrupt 100+ conference not only serves as an educational tool for firms, but it is also an arena for thought-leaders to network and coordinate future projects together, such as our NY Energy Storage Initiative. Clean, smart energy can make cities and businesses more resilient, and our aim is to showcase these leading technologies to move us in that direction", says Nicholas J. Davis, Managing Director of AGRION Americas.
Interested thought-leaders can register for the event online. The event is $800 for one day or $999 to attend both days of the conference. Discounts are available for both early registrants and for AGRION members. Three levels of sponsorship are also available, providing the firm with added benefits such as a speaking slot on an expert panel, conference tables, and several opportunities for brand visibility.
----------------------------
About AGRION:
Through weekly meetings in offices around the world, AGRION provides a platform for members to connect, exchange ideas, and identify business opportunities. AGRION members can determine critical business drivers, explore innovation, and realize sustainable growth in a world challenged by resource constraints, climate change, and evolving political landscapes. To learn more and create your own profile, visit http://www.agrion.org.