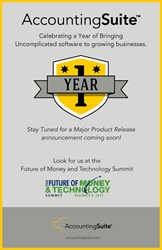 "API or Die.. it's how we allow companies and entrepreneurs to grow with AccountingSuite from start to exit!.."
San Francisco, CA (PRWEB) December 11, 2013
AccountingSuite debuts deep integration with @BitCoin #bitcoinconf in its cloud accounting and business software at the Future of Money and Technology Summit #futureofmoney produced by Buzz Makers, Inc.
From Future of Money Website:
"..The Future of Money & Technology Summit brings together the best and brightest thinkers around money, including visionaries, startups entrepreneurial business people, developers, press, investors, authors, solution providers, service providers, and organizations who work with them at the convergence of cash and commerce. We meet to discuss the evolving money ecosystem in a proactive, conducive to dealmaking environment, covering everything from Bitcoin to the FinTech investment climate to new banking models and more!"
In addition to debuting its CoinBase integration, now allowing customers to pay with BitCoin in AccoutingSuite, Co-Founders Konstantin Zuzik and Kurt Kunselman also gave live demonstrations of payments with Dwolla.
The integrations are made possible by an innovative use of real-time APIs within AccountingSuite that give the software an advantage over its competitors in a seemingly populated space of accounting and business software. However, the differentiator seems to be the all-in-one functionality of the software. Without Add-Ons, AccountingSuite includes Sales Orders, Sales Invoices, Cash Sales, Inventory Management, Project Tracking, Time Tracking, Class Tracking, General Ledger, Purchase Order, Purchase Invoice, Bills, Bank Reconciliation, Reporting and Automated daily Bank Downloads.
For the functionalities not a part of the software, AccountingSuite has many integrations with software already being used through its partnership with Zapier and Agile BTS.
About AccountingSuite:
AccountingSuite is a San Francisco startup funded by parent company 1C LLC, an international enterprise software group with more than 1 million business customers in Asia and Europe.
Our mission is to provide easy-to-use, no-nonsense business software for startups, entrepreneurs, and established businesses to manage their finances and day-to-day operations.
Our vision for AccountingSuite is to give you, your employees and business partners easy, secure access to company information from anywhere on the planet—empowering everyone at your company with the business-critical information that often makes the difference between gaining new customers and losing them to the competition.
AccountingSuite is cloud-based for easy implementation and low maintenance costs, another way our software helps simplify your daily workflow and uncomplicate your business.