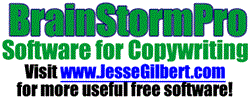 I think it is safe to say that every single writer in the universe would find this tool valuable and a pleasure to use
Berkeley, California (PRWEB) December 09, 2013
Writers of all types, all around the world, spend countless hours coming up with the best titles, headlines, product names and domain names. There are hundreds of web based free thesaurus tools available on the internet to help in this undertaking...but wouldn't it be easier if you had access to it on your desktop? Well, now you can...with BrainStormPro, a new thesaurus app from http://www.JesseGilbert.com.
"I made this tool for myself years ago and never got around to putting it on the internet. I realized it could be a big help to basically every writer on the internet...actually, I think it is safe to say that every single writer in the universe would find this tool valuable and easy to use" says Jesse Gilbert, the creator of the software.
With a regular thesaurus one might type the word 'fun' and get back the following 16 results: amusing, entertaining, enjoyable, exciting, pleasurable, cool, great, enjoyment, excitement, amusement, pleasure, joy, exuberance, entertainment, merriment, and diversion.
However with BrainStormPro, the equivalent search returns well over 100 results with dozens of new synonyms such as:
charming, pleasing, tickling, regaling, thrilling, exhilarating, stirring, electrifying, rousing, sensational, breathtaking and enlivening just to name a few.
Users of this thesaurus software can simply check off the words they are considering using, copy them to the clipboard and then paste into any editing program to arrange for optimum use.
"This product is brain-dead simple to use and can really give your writing a charge. To see how it works you can view a youtube video on my website http://www.jessegilbert.com and download the software. Since it is freeware, I make no guarantees that it will work on every computer but it does work with most versions of MS Word."
Users are invited to make a donation or simply link to the website if they find the software useful, however there is no obligation whatsoever.
"This software is fun and easy to use and I want to share it with the world. If it helps me gain some new business, great. If not, at least I know it is not just sitting around on my computer gathering dust, rather it is helping writers everywhere to create better works."
To learn more visit http://www.jessegilbert.com