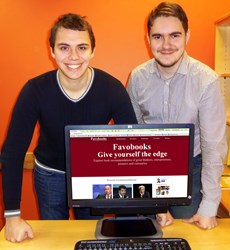 "Accelerating student entrepreneurship and delivering acceleration services to young entrepreneurs is a significant aspect of our Student Venture Lab Program," said Karl R. LaPan, President and CEO, NIIC
Fort Wayne, IN (PRWEB) December 09, 2013
Two Russian students win student venture competition in Moscow and a week at the Northeast Indiana Innovation Center learning best practices and how to grow their venture, Favobooks.com.
The Northeast Indiana Innovation Center (NIIC) announced today that a winning student venture company from MGIMO (Moscow State Institute of Foreign Relations) in Moscow has just completed a week-long visit to the incubator to learn from Incubator coaches and client companies and has taken up residency in NIICs high acclaimed Student Venture Lab.
Grigoriy Shchennikov and Artem Bezrukov are final year students from Russia, both studying economics at MGIMO-University in Moscow. http://english.mgimo.ru/ They launched their startup student venture company, Favobooks.com, about a year ago at the university business incubator in Moscow. Favobooks.com is a website that lists the book recommendations of famous people. Avid readers themselves, they came up with the idea to solve the problem of choosing a good book to read by creating a database of favorite books of outstanding people.
Favobooks.com won this year's student venture competition at the university incubator and the students were awarded the opportunity to come to the Northeast Indiana Innovation Center (NIIC) in Fort Wayne, IN. NIIC was recently recognized by Entrepreneur Magazine as one of the top four "Under-the Radar" incubators in the U.S.
During the week, Grigoriy and Artem were able to meet with incubator business coaches and clients to learn about and adopt the best practices of entrepreneurial ventures in the US market. The students also attended the "Bootstappers Guide to Profitable Growth" workshop presented by NIIC to area small business owners.
"We came here to learn from experts with the ultimate goal to improve the online-visibility and profitability of Favobooks.com", said Grigoriy Shchennikov, Favobooks.com co-founder, "We learned a great deal this week and are very appreciative of the wonderful reception we received."
"We have had a strategic alliance with MGIMO for the last several years. Our mutual goals are to advance the entrepeneurial ecosystem and nurture and encourage students to become entrepreneurial. This cross-border entrepreneurial exchange is an important dimension of our mutual efforts," said Karl LaPan, NIIC President and CEO, "We are excited to support and advance the Russian incubation efforts, and our efforts are dedicated to achieving entrepreneurial excellence. Grigoriy and Artem are very similar to our US entrepreneurs. They are passionate, commited, innovative, and capable. They are both impressive young entrepreneurs."
Favobooks.com
Favobooks.com is a web site that lists the book recommendations of famous people. The founders/owners can be reached at: Grigoriy Shchennikov (grisha.kirov(at)gmail(dot)com) and Artem Bezrukov (temabezrukov(at)gmail(dot)com)
Northeast Indiana Innovation Center (NIIC) - NIIC is a non-profit, community-based business incubator and accelerator that catalyzes the growth and development of technology-based companies in Northeast Indiana, thereby diversifying and growing the region's economy and enhancing our community's vitality. For more information about the NIIC, contact the NIIC Entrepreneur-In-Residence, Mike Fritsch at 260-407-1754 or mfritsch(at)niic(dot)net.
Also, check out our Student Venture Lab website, the NIIC is now accepting additional applicants for admissions to its award winning student incubation/acceleration program.