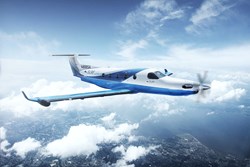 Los Angeles, California (PRWEB) December 09, 2013
Today, Surf Air, the nation's first All-You-Can-Fly, membership airline, commenced service in Hawthorne, Calif. and unveiled new Tiered, Friends & Family and Business Membership options.
"With the addition of a new destination and membership levels, we look forward to offering new and existing members increased accessibility and flexibility with their travel options," said Wade Eyerly, Co-Founder and CEO for Surf Air. "Member satisfaction is a priority for Surf Air and we continue to grow our travel opportunities and services based on member feedback and demand."
Service to Hawthorne, located adjacent to Los Angeles International Airport, provides easier access to Westside LA and other areas throughout the LA Basin. Along with the new destination, Surf Air added a Pilatus PC-12 executive aircraft to its active fleet, allowing extra flights on the most popular routes.
"The expansion to Hawthorne will add hours back to my life that would have been lost to the 405 or the 110. Surf Air gives me back something so precious that can't be purchased... time," said Founding Member Aaron Smart. "All those hours I used to waste at LAX and SFO I now spend with my significant other. Surf Air has made a dramatic improvement in my life."
Launched earlier this year, Surf Air provides a simple and convenient way to fly between the Los Angeles metro area, San Francisco Bay Area and Santa Barbara. For a nominal monthly fee, members have access to unlimited monthly flights on executive aircraft to and from private air terminals. New membership options include:

Tiered Memberships: now offered at four tiered levels that allow members to select a plan to satisfy the frequency and flexibility of their travel needs. Memberships start at $1,350/month.
Friends & Family Memberships: allows multiple people to choose any of the Tiered Membership options with reduced pricing, and also includes access to an administrative portal, where one member can manage flights for everyone in the group. Children ages 15 and under are eligible for further reduced pricing.
Business Memberships: allows companies to build their own custom plan to share among any quantity of employees.
Earlier this year, Surf Air received its FAA Operating Certificate and a B round of funding led by Velos Partners and Base Ventures. Additional investors include Anthem Venture Partners, New Enterprise Associates, Structure Capital, actor Jared Leto, TriplePoint Capital, Siemer Ventures, Baroda Ventures, Gilad and Eytan Elbaz, Rick Caruso, Jeffrey Stibel and Jonathan Schreiber.
To sign up for a membership visit http://www.surfair.com/signup.html
For more information on the new flight schedule visit http://www.surfair.com/schedule.html
About Surf Air
Surf Air is an All-You-Can-Fly private air travel membership that provides business and leisure travelers with exclusive, hassle-free air travel, saving valuable time and money. The company provides first-class service on executive aircraft to and from convenient local airports in the San Francisco Bay Area, Santa Barbara and Los Angeles metro area, with service to additional locations to follow. Operating out of local mid-sized airports, Surf Air offers an affordable and sophisticated travel experience for frequent regional travelers. For more information please visit http://www.surfair.com, facebook.com/isurftheskies and youtube.com/isurftheskies.