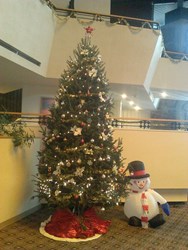 By participating in holiday events and activities, the individual can restore and re-experience the feelings of joy and happiness - emotions that had previously been dulled by drug use. - Gary Smith, Executive Director, Narconon Arrowhead
Canadian, Oklahoma (PRWEB) December 10, 2013
The holidays are a time of love, caring, generosity and enjoyable activities. It is a time to deck the halls, sing carols, spend time with friends, and help support those who are less fortunate. For those individuals who are in drug and alcohol rehabilitation treatment facilities, the holidays may be especially important. Narconon Arrowhead believes that part of trying to re-establish healthy lives including participating in fun, sober holiday activities with others.
This holiday season, Narconon Arrowhead staff and students have planned a series of holiday activities including creating a drug-free float that will be displayed in the McAlester Christmas Parade. The facility staff will also display the float at the local Eufaula holiday parade (weather permitting). To make sure that the holiday cheer infiltrates the facility itself, the beautiful Narconon Arrowhead Christmas tree went up on December 6th, and the staff and students participated in a "decking the halls" party on December 8th, from 1:00 to 5:00 pm. And to keep everyone busy and get everyone in the holiday spirit there will also be a staff and student holiday talent show on December 15th.
The facility is also still collecting donations for the local food pantry that will be given to those in the local area during the holidays.
Importance of Giving Back at Arrowhead Center
Gary Smith, Executive Director at the Narconon Arrowhead facility says that in order to understand the importance of having drug rehabilitation treatment program students participate in holiday events and activities, it is important to understand the phases of addiction and how they are effectively addressed and resolved.
Most individuals begin their use of drugs because there is some problem in their life that they cannot confront and handle. This may be a family upset, a financially stressful situation or job loss that causes the individual to seek solace in drugs. Drugs do not resolve the problem, but may suppress the individual's emotions regarding the problem. Drug use causes the chemicals in drugs to block receptors in the brain that are responsible for various desired physical and emotional senses, including sound, smell, touch and happiness. Further drug use can cause the individual to experience feelings of shame, guilt and embarrassment, and make them withdraw from life, relationships and activities, focusing only on drug use and their past and current problems.
There are many obvious steps in a successful drug rehabilitation program, including a withdrawal program, counseling, a detoxification program and life skills courses. In addition to these important points, though, the individual also needs to be re-introduced to the parts of life that they have essentially lost.
"By participating in holiday events and activities, the individual can restore and re-experience the feelings of joy and happiness - emotions that had previously been dulled by drug use," says Smith. "They can also look out to others and the environment around them, and begin to communicate with and form healthy relationships with others again. Where drugs once dominated their every thought and action, the former addict can once again realize what life has to offer during a time of love and generosity."
It is also important to note that a drug addict has, in some ways, been a criminal to society, whether they have committed more serious crimes above their drug use, like theft or dealing drugs to others, or not. Their drug use has often led them into being unproductive members of society who yet drain valuable resources like healthcare and emergency and police services.
Smith feels that by providing his clients that means to participate in holiday events and activities it can help spread important messages to others about leading drug-free lives, they are beginning the process of restoring a more productive and helpful role in society. They are also demonstrating by example the importance of communities working closely together to bring holiday cheer to those who are less fortunate.
Narconon Arrowhead provides many recreational activities to their program students, and also participates in regular community outreach programs throughout the year. Celebrating love, caring and generosity during the holidays with parade floats, decorations and themed talent shows help facility staff and students enjoy sober activities that foster holiday spirit.
For more information call 800-468-6933 or visit http://www.narcononarrowhead.org.