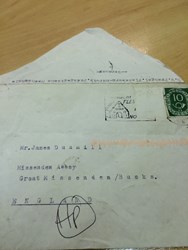 We are all flabbergasted and surprised at how this envelope came to arrive.
(PRWEB UK) 12 December 2013
Picture caption: The envelope postmarked 1951 that has arrived at Missenden Abbey Conference Centre.
Conference centre looks for clues after letter arrives - posted in 1951!
Staff at Missenden Abbey Conference Centre in Buckinghamshire are completely stumped after an envelope dropped through their letterbox - posted in 1951.
The envelope, sent from Mr D W Prengal in Flensburg-Mürwik, Germany, was addressed to James Dunnill, at Missenden Abbey, which is owned by Buckinghamshire New University.
Eva Neupauer-Jones, General Manager of Missenden Abbey Conference Centre, in London Road, Great Missenden, said: "We are all flabbergasted and surprised at how this envelope came to arrive.
"Where it has been all these years? The stamp on it was issued in 1951 and it looks like something out of a museum, not the usual post we receive!
"We have searched our records and it turns out that James Dunnill was a warden at Missenden Abbey from 1947 to 1954 but the letter has certainly taken its time to get here!
"We are going to try and track down who could have sent it, as the return address in Germany is on the back of the envelope, but would also like to hear from anyone who may be related to or have known James Dunnill.
"The envelope will also be displayed in our reception area alongside our guestbook, which dates back to 1949."
Missenden Abbey is a conference, wedding and events venue dating back to the 12th century.
Anyone with any details about the envelope can contact Missenden Abbey Conference Centre on 01494 866811.
Editor's notes
Buckinghamshire New University has enjoyed a long and successful history since it was founded in 1893. The University offers an extensive portfolio of courses spanning the creative and cultural industries, the management and information management sectors, and the public sector. It also offers services to industry including contract research, consultancy and the opportunity to employ graduates.
The University has a state-of-the-art building in High Wycombe known as the Gateway, which comprises a learning resource and technology centre, events hall, gym, sports science laboratory, dance, drama, music and video production studios, library and meeting rooms. It also offers a growing provision of student accommodation in High Wycombe; and a thriving base for nursing students and applied healthcare research in Uxbridge, West London.
Its alumni include television star Noel Fielding and London 2012 Paralympic and Olympic medallists Naomi Riches and Chloe Rogers, and it has bestowed honorary degrees on well-known figures including Fern Britton, Terry Wogan and England Rugby World Cup winner Lawrence Dallaglio.
Bucks New University's Vice Chancellor, Professor Ruth Farwell, is Chair of GuildHE, which represents the heads of some of the most recently designated universities and university colleges, specialist colleges and other bodies providing higher education programmes.
Website: bucks.ac.uk
For further information, details and images contact Dean Valler, Communications Officer at Buckinghamshire New University, on 01494 601 636 or 07920 212 937 or email dean.valler(at)bucks(dot)ac.uk.