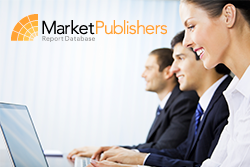 London, UK (PRWEB) December 09, 2013
Market Publishers Ltd and FocusEconomics signed a partnership agreement for quality market research promotion on Internet. MarketPublishers.com is now authorised to distribute and sell FocusEconomics reports.
Commenting on the agreement, Tanya Levdikova, Assistant Manager at Partners Department, said: "FocusEconomics is a Spain-based firm involved in providing top-level economic consensus forecasts for over 70 different countries the world over. Since its establishment in 1998, FocusEconomics has gained popularity and high reputation as a reliable source of authentic and timely business intelligence. We are delighted to have FocusEconomics as a partner, and we are anxious to develop a long-lasting cooperative relationship that will be beneficial not only to both parties, but also to our honourable clients."
The consensus forecasts prepared by FocusEconomics combine numerous macroeconomic projections for different countries, provided by the top national and international economic experts. The research studies contain five-year forecasts for the key economic indicators, including economic growth, investment and consumption, industrial production, employment, retail sales, inflation, exchange rates and interest, fiscal balance, foreign trade and the balance of payments, among others. FocusEconomics' publications are delivered in an understandable and easily accessible format (with tables, charts, bullets and summaries), providing the much-needed information in the shortest amount of time possible.
In-demand Publications by FocusEconomics Include but are Not Limited to:
FocusEconomics Consensus Forecast China - Annual Subscription - PDF. China's economic activity accelerated in Q3 2013. The country's GDP registered 7.8% YoY growth. The Chinese authorities make efforts to boost the economic growth and meet the 7.5% growth target set for this year mainly through certain tax breaks and investments in railways. A series of economic reforms are likely to be introduced in the upcoming years to ensure sustainable long-term growth. China's GDP is poised to record 7.5% growth through 2014 …
LatinFocus Consensus Forecast Brazil - Annual Subscription - PDF. In October 2013, the industrial production in Brazil registered 0.6% monthly growth, driven primarily by the increase in capital goods; furthermore, in September 2013, it registered 0.7% monthly growth. In Q3 2013, the country's GDP decreased by 0.5% in comparison to the previous quarter. In September 2013, the Brazilian economic activity witnessed flat monthly growth, whilst headline inflation stood at 5.9% …
FocusEconomics Consensus Forecast Romania - Annual Subscription - PDF. During Q3 2013, Romania's GDP recorded 4.1% growth compared to the same period the year before. In September 2013, the annual headline inflation remained at 1.9% level (the lowest level in more than a year). In the same month, the industrial output increased 10%, making a considerable improvement compared to the 4.3% increase registered in August …
More details on the publisher and its publications can be found at FocusEconomics page.