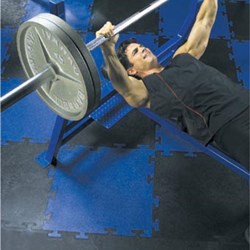 Milltown, WI (PRWEB) December 12, 2013
So you've decided to invest in a home gym. Good for you! Before you start purchasing weights, equipment, etc., it's a good idea to decide what type of flooring you'll need.
If you're looking for a material to cover and protect your floors from free weights and heavy exercise equipment, rubber is the most popular product there is. Found in commercial and residential gyms around the world, rubber flooring is a relatively inexpensive and effective solution for your gym. However, it is extremely heavy and provides little to no cushion for aerobic activities. For weight rooms or treadmill areas, it will fit the bill nicely. For an aerobics area, you will want to consider a more ergonomically friendly solution such as high-density EVA foam.
The most popular rubber flooring is rolled because it tends to be the least expensive option available. Rolls are typically four feet wide and cut to various lengths depending on the manufacturer. Installing these rolls can be cumbersome and challenging because rubber is quite heavy. You will definitely want provisions in place before you tackle a rolled rubber installation. However, if you have the people to help you, this is the most economical option available.
Another option is rubber mats. These are available in a various sizes and thicknesses in both interlocking or straight-edge options. Rubber mats tend to be much easier to install but they are, as a general rule, more expensive than rolls.
Both of these rubber flooring options are an effective flooring for your home gym and will probably last you the life of your equipment.
Some additional points of note: Contrary to popular belief, rubber is not waterproof. Therefore, it is not an ideal product for outdoor use. It is also not the best product if you're putting your home gym in a garage. This is because rubber reacts to many solvents and liquids such as gas or oil. These can break down and destroy your floor. Car tires also tend to chew up rubber flooring.
For more information on rubber flooring or other specialty flooring, we recommend that you call one of our customer service representatives.
About Greatmats:
Headquartered in Milltown, WI, Greatmats is a leading online dealer of residential and commercial specialty flooring options. Greatmats is 100% solar powered and has been named one of Inc magazine's top 500 fastest growing sites three years in a row. They hold a Triple-A rating with the Better Business Bureau. For further information, contact Greatmats at 877-822-6622 or visit http://www.greatmats.com.