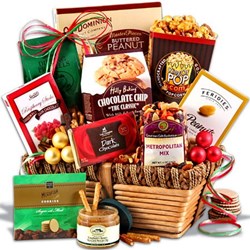 No matter what basket we're making, Holly Baking's cookies and cookie brittles are essential to the design!
Rohnert Park, California (PRWEB) December 11, 2013
Holly Baking's line of gourmet cookies with premium natural ingredients will be bringing cheer to friends, families, companies and customers across the country as it is a favorite ingredient for high-end specialty gift basket makers.
Many of the top, award-winning gift basket providers look to Holly Baking for its delicious line of Cookie Brittle, Biscotti, Butter Cookies and Chocolate Chip Cookies. Holly's gift basket partners include: Gourmet Works, Wine.com, Harry & David, Giftbaskets.com, California Delicious, Houdini, Givens & Halpern, A Southern Season, Fancifull Gift Baskets, Design It Yourself, The Gifted Ones, Pitman & Davis, Gift Services and more.
Jill Bishop of GourmetGiftBaskets.com said, "No matter what basket we're making, Holly Baking's cookies and cookie brittles are essential to the design! That's because they're baked to perfection using the finest, all-natural ingredients, creating delectable treats our customers can't get enough of!"
"Because we offer a full line of specialty cookies in both full sized and grab 'n go boxes, they fit perfectly into an assortment of gift basket sizes," said Karen Graves, Marketing Manager at Holly Baking. "We also have wonderful premium flavors like Chocolate Peppermint and Chocolate Toffee Cookie Brittle, Chocolate Dipped Almond and Hazelnut Biscotti, Ginger Spice Butter Cookies, our customers love to share during the holidays."
Holly Baking's top seller, Viva Sonoma Biscotti, is made from the original recipe of Debby Dyar, Holly Baking's founder, and was inspired while visiting her son, who was studying abroad in Italy. The entire line of five different flavors is baked twice in the authentic Italian style and made from the highest quality, natural ingredients – just like Nonna used to make!
Holly Baking offers a variety of classic Biscotti, Cookies and gluten-free Licorice. Our products are manufactured in the heart of Sonoma County wine country. We have award- winning Biscotti, scrumptious Butter Cookies recognized by the Specialty Food Association as a sofi™ finalist, delicious Cookie Brittle and an extensive line of Chocolate Chip and Oatmeal Cookies.