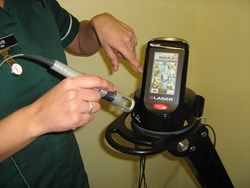 The K Laser has proved to successfully treat a range of animals with a variety of conditions and its popularity is continuing to grow.
(PRWEB UK) 12 December 2013
Elaine Fairfax, the Founder and MD of Animal Friends Insurance, the UK's third largest pet insurance company, has sponsored her company's £16,500 purchase of a K Laser machine for Dorset based Friars Moor Veterinary Clinic.
Laser treatment, used for some time on humans, is now being used to treat a wide range of conditions in pets from fractures and sprains to arthritis and hip dysplasia. It can also be used post-surgery on wounds and for procedures such as neutering and spaying to encourage faster healing. It works by running a laser over the affected area on the animal's body, stimulating cells, increasing circulation and promoting healing leading to reduction in swelling, inflammation, stiffness and pain.
The treatment has little to no sensation for the pets who can only usually feel warmth, meaning they are able to relax during the procedure. An added benefit is that pet owners can also be present while the procedure is administered.
Elaine said: "I could see that this machine represented a vital advance in treatment of pets for all manner of conditions. My own 17 ½ year old cat was treated and we immediately saw a big improvement to his arthritis. Two of my friends also saw notable improvements in their pets. This is something I wanted our policyholders in our region to benefit from and our association with Friars Moor will further this. Policyholders from a wide area will now be able to be referred to Friars Moor for cost effective and pain free treatment that clearly gives remarkable results. At Animal Friends we are always trying to find ways to make the treatment and claims processes easier for our customers and for the practices we regularly deal with."
Anthony Wilkinson (BVSc MSc MRCVS), a Director of the Friars Moor Veterinary Clinic said: "Each week I see there are more animals booked in for K Laser treatment. The nursing staff are all excited about the K Laser and we hope that it will change the way they interact with our clients. It is an impressive piece of equipment with impressive clinical data to back it. We are very grateful to Elaine for introducing us to the K Laser and then kindly purchasing it for us. It was very kind of her."
About Animal Friends
Established in 1998, Animal Friends Insurance is one of the largest independent pet insurance provider in the UK for dogs, cats and horses, committed to helping animal welfare charities worldwide.
http://www.animalfriends.co.uk
Animal Friends is the trading name of Animal Friends Insurance Services Limited, company number 3630812, registered office Animal Friends House, Sun Rise Way, Solstice Park, Wiltshire, SP4 7QA. Animal Friends Insurance is authorised by the Prudential Regulation Authority and regulated by the Financial Conduct Authority and the Prudential Regulation Authority, FCA Number 307858.
About Friars Moor Veterinary Clinic
First established in the 1950's, Friars Moor Veterinary Clinic has long supported the local farming community with expertise to cater for all classes of livestock. Their small animal department is committed to ensuring your pets receive the highest level of care. Offering services from three locations across North Dorset with branches at Sturminster Newton, Shaftesbury and Blandford Forum. They are proud to be an approved member of the Royal College of Veterinary Surgeons Practice Standards Scheme.