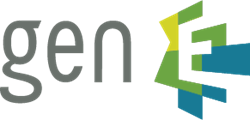 "We are quite thrilled to be named a winner in both the Red Herring Top 100 and the Top 100 Global awards this year," said gen-E CEO Casey Kindiger.
San Clemente, California (PRWEB) December 10, 2013
gen-E, a global IT process automation (ITPA) software company, today announced that it has been named a winner of the coveted 2013 Red Herring Top 100 Global award, which has become a mark of distinction for identifying promising companies and entrepreneurs. The winners were honored at a ceremony on November 20, 2013, in Santa Monica, California.
Red Herring's editorial staff evaluated the companies on both quantitative and qualitative criteria, such as financial performance, technology innovation, management quality, strategy, and market penetration. This assessment of potential is complemented by a review of the track records and standing of the companies relative to their peers, allowing Red Herring to see past the "buzz" and make the list a valuable instrument of discovery and advocacy for the most promising business models from around the world. Red Herring editors were among the first to recognize that companies such as Facebook, Twitter, Google, Yahoo, Skype, Salesforce.com, YouTube, and eBay would change the way we live and work.
Chosen from more than 1,000 companies in 40 countries, gen-E was recognized for bringing a human-centric, collaborative ingenuity to its market with its Resolve™ IT Process Automation software. Resolve is being used by industries across the board, including leading global financial services companies, communication service providers and transportation companies for customer care, service desk, provisioning, and more.
"We are quite thrilled to be named a winner in both the Red Herring Top 100 and the Top 100 Global awards this year," said gen-E CEO Casey Kindiger. "These two awards reaffirm our commitment to continue expanding and enhancing our patented Resolve IT Process Automation platform to make it the most innovative, best-in-class solution available. Resolve will continue to evolve in 2014 and provide real value and return on investment to organizations seeking ways to serve their customers more quickly and cost-efficiently."
"Choosing the companies with the strongest potential was by no means a small feat," said Alex Vieux, publisher and CEO of Red Herring. "After rigorous contemplation and discussion, we narrowed our list down from hundreds of candidates from across the globe to the Top 100 Winners. We believe gen-E embodies the vision, drive and innovation that define a successful entrepreneurial venture and should be proud of its accomplishment, as the competition was the strongest it has ever been."
About Red Herring
Red Herring is a global media company, which unites the world's best high technology innovators, venture investors and business decision makers in a variety of forums, including print, online and exclusive events worldwide. Red Herring provides an insider's access to the global innovation economy, identifying new and innovative technology companies and entrepreneurs. Its Red Herring 100 awards for North America, Europe, Asia and Global have recognized more than 5,000 companies in their early stages, including Baidu, Google, eBay, Skype. For more information please go to: http://www.redherring.com/events/.
About gen-E
gen-E is an IT process automation (ITPA) software company that places human ingenuity at the forefront of workplace activity. The company's award-winning Resolve™ software breaks down traditional organizational and process constraints through an innovative approach to automation. Powered by actionable and dynamic knowledge management capabilities, Resolve allows organizations to realize cost savings of as much as 200 percent within months of deployment. For more information, please visit http://www.gen-e.com.