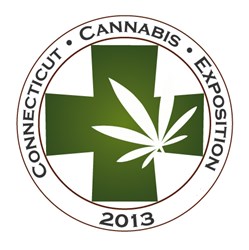 (PRWEB) December 09, 2013
While the Department of Consumer Protection's medical marijuana rules have become finalized and virtually set in stone, Connecticut has jumpstarted its medical marijuana program and has been accepting applications for medical marijuana producers, medical marijuana dispensaries and even for inquiring medical marijuana patients. However, while patients are receiving a doctor-written medical marijuana recommendation, in turn it has become apparent that patients are also receiving a minimal amount of knowledge on this compassionate alternative treatment option. Well Connecticut, it's time to become educated on one of the nation's most burgeoning industries to date -- the medical marijuana industry.
The Connecticut Cannabis Exposition is an organized event that will feature a broad range of educational information and potential opportunities for those who are interested in comprehending and learning more about medicinal marijuana and how it can help those in dire need. It is typically patients who are suffering from a chronic or debilitating condition that are normally those who could use the medicinal benefits of cannabis and proper knowledge on how it can help. For this reason, the Connecticut Cannabis Exposition will serve as one of the Constitution State's largest sources of invaluable information pertaining to the northeast "green rush," and will feature three main components that will help in better comprehending this industry.
Patients and attendees of this exposition will be provided with bona fide aspects of scientific, psychological, interaction-based, and medical education involving medicinal marijuana (medical cannabis) and how marijuana can change the modern world with replacing paper and cotton as textiles. All of this information will be presented by those with an intimate knowledge of medical marijuana due to an involvement with the medicine for many years. Patients and the general public can learn more about this alternative option from a legitimate standpoint and from first-hand experiences. Education remains the key in an up-and-coming industry such as this, and this expo will also feature seminars on proper horticulture, appropriate growing techniques, fertilization, equipment management, cannabis-infused cooking and other uses for what has been deemed the "miracle medicine."
Alongside the aforementioned educational aspect that is provided by this cannabis-related event, the Connecticut Cannabis Exposition will also be a support portal for vital information in regards to those who have shown interest in becoming a medical marijuana dispensary operator or a medical marijuana producer (or caregiver) for the state of Connecticut. On hand at the event will be around thirty-to-forty businesses that are registered vendors and will be presenting at the expo. Many featured businesses will be from out of state and localized businesses, all of which the Connecticut Cannabis Exposition is extremely grateful for, featuring industries such as building trade (construction, electrical or HVAC), agricultural (growing, lighting, ventilation) and legal and financial consulting services. Standing side-by-side to the aforementioned entities will be cannabis producers, medical marijuana dispensaries, and cannabusinesses, all of which supply and service the industry with compassion and professionalism.
Overall, the primary mission of this cannabis exposition is to reach out to any individual who is interested in finding out more information about the medicine benefits of marijuana and how it could revolutionize the state of Connecticut. It does not matter if an attendee is a licensed dispenser, certified grower, inquiring or current medical marijuana patient or maybe even an individual who is simply curious about this industry -- this is the right place to be. Please note that the Connecticut Cannabis Exposition includes local vendors who will be selling clothing, bags, fabrics, growing systems, medical delivery devices and other items connected with medical cannabis to attendees. It should also be duly noted that patients from any medical marijuana state within the country who can provide valid proof of a state-issued medical marijuana card will only be required to pay a significantly reduced admission price of $10.