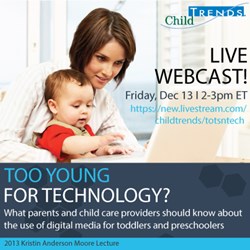 One in three kids under the age of two have had access to smartphone or tablet.
Bethesda, Maryland (PRWEB) December 09, 2013
Child Trends' Senior Scholar, Kristin Anderson Moore, will host a 60-minute panel discussion on what parents and child care providers should know about the use of digital media for toddlers and preschoolers.
Panelists:

Lisa Guernsey, Director of the Early Education Initiative at the New America Foundation and author of Screen Time: How Electronic Media - From Baby Videos to Educational Software - Affects Your Young Child;
Kathy Hirsh-Pasek, Ph.D., Professor of Psychology and Director of the Infant and Child Lab at Temple University, and author of Einstein Never Used Flashcards: How Children Really Learn & Why They Need to Play More and Memorize Less;
Rosemarie Truglio, Ph.D., Senior Vice President of Curriculum and Content for Education, Research and Outreach at Sesame Workshop
To view webcast: https://new.livestream.com/childtrends/totsntech.