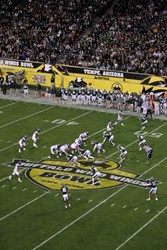 Tempe, Ariz. (PRWEB) December 11, 2013
Tempe, Ariz. will play host to the Michigan Wolverines and the K-State Wildcats at the Buffalo Wild Wings Bowl on December 28, 2013 at Sun Devil Stadium. Fans are encouraged to visit the Tempe Tourism Office website for Buffalo Wild Wings Bowl information, including convenient hotel options, parking tips and things to see and do in Tempe before the big game.
Tempe is located in the heart of the metropolitan Phoenix area, next to Phoenix Sky Harbor International Airport.
Here are six tips for fans who are planning to cheer for their team in Tempe:
1. Tickets are available through each school's ticket office, at the Buffalo Wild Wings Bowl website and the ticket office, 480-350-0911. The Buffalo Wild Wings Bowl is one of the best bargains in college football bowl games. Single game tickets start at $25.
2. Visitors can find a hotel in the area by using the Tempe Tourism Office website. Sun Devil Stadium is centrally located within walking distance or just a quick drive to numerous Tempe hotels.
3. Prior to the game, Michigan and K-State fans won't want to miss the Buffalo Wild Wings Tablegate presented by Coke Zero. This ultimate tailgating experience will include a headlining performance from Smashmouth, jumbotrons showing team highlights, interactive games, pep rallies and cheerleaders. The $25 ticket price to the Buffalo Wild Wings Tablegate includes a plated meal. This pre-game party will be held in lot 3, adjacent to Sun Devil Stadium. Tickets can be purchased at the Buffalo Wild Wings Bowl website.
4. Tempe's Mill Avenue District is also a great gathering place for fans in the days leading up to the game. There are more than 100 restaurants, taverns and shops located in the Mill Avenue District, just a couple blocks from Sun Devil Stadium.
5. Bowl game fans can extend their trip through the New Year for an even better vacation. This December 31, Tempe will be transformed into the ultimate celebration for the Circle K New Year's Eve Block Party on Mill Avenue. This NEW New Year's Eve event will bring impressive high-energy video dance clubs to the streets, local entertainment and attractions, a family fun zone (with an early fireworks show at 9 p.m.), a variety of gourmet food trucks, beer gardens and champagne lounges, and a midnight countdown consisting of a shimmering firework display and confetti blast. The party starts at 6:00 p.m. on December 31. Tickets are $25 and can be purchased online at http://www.blockpartyonmill.com, at any Circle K store throughout Arizona (discounts available in store until Dec. 29) or at the gate the night of the event.
6. In addition to cheering for their favorite team and ringing in the New Year, fans can take a break from the winter cold and enjoy the outdoors. Hiking trails are located throughout the city, including "A" Mountain, Papago Park and South Mountain Park and Preserve. Visitors also enjoy going kayaking or paddle boarding on Tempe Town Lake, exploring the beautiful landscape at Desert Botanical Garden and shopping and dining at Tempe Marketplace and Arizona Mills.
For more information about Tempe or the Buffalo Wild Wings Bowl, visit the Tempe Tourism Office website, or call 800-283-6734.
About Tempe Tourism Office
The Tempe Tourism Office is a non-profit organization devoted to marketing Tempe, Arizona as a desirable visitor and group destination site. The Tempe Tourism Office's mission is to provide visitors, media professionals and meeting planners with information on Tempe hotels, Tempe restaurants, Tempe entertainment and local points of interest. To learn more about Tempe, Arizona please call 480-894-8158 or 800-283-6734 or visit our website.
###