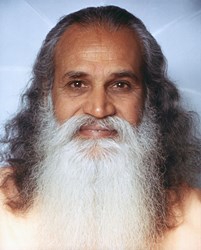 'None of my work would have been accomplished were it not for Swami Satchidananda's influence.'- Dr. Dean Ornish
New York, NY (PRWEB) December 11, 2013
The Integral Yoga Institutes of New York (http://www.iyiny.org) and San Francisco (http://www.integralyogasf.org) announced that Integral Yoga International will launch on December 22, 2013 a year-long worldwide celebration of the 100th birth anniversary of Integral Yoga's founder, Swami Satchidananda. Called the "Global Garland" (http://www.globalgarland.org), it will honor the life and legacy of the renowned spiritual leader and feature an extensive series of substantive programs and celebratory events.
Swami Satchidananda was invited to the United States in 1966 by the artist Peter Max. Max's circle of friends were hungry for Swami Satchidananda's knowledge, embraced his teachings of Yoga, meditation, vegetarianism, and a compassionate lifestyle, and spread the word. Three years later he delivered the official opening remarks at the 1969 Woodstock Music and Art Festival and became known as the "Woodstock Guru." Swami Satchidananda went on to receive many honors for his public service, including the Albert Schweitzer Humanitarian Award, the Juliet Hollister Interfaith Award, and the U Thant Peace Award. His teachings are the foundation for Dr. Dean Ornish's landmark work in reversing heart disease, Dr. Michael Lerner's noted Commonweal Cancer Help program, Sonia Sumar's Yoga for the Special Child, among many other programs. Integral Yoga International is now a leading nonprofit organization for Yoga teacher certification and on the cutting edge of the burgeoning Yoga therapy movement.
"Swami Satchidananda was a Yoga and holistic health pioneer in this country," says Jo Sgammato, General Manger, Integral Yoga Institute in New York City, New York. "Throughout 2014 we'd like to highlight many of Swami Satchidananda's contributions so that people will learn more about his work and become inspired by it, which may help to bring peace, health, and joy to countless others."
Dr. Dean Ornish, President of The Preventive Medicine Research Institute in California, who will be a panelist in the Global Garland's Enlightened Health Symposium in New York City in October of 2014, says of Swami Satchidananda: "None of my work would have been accomplished were it not for Swami Satchidananda's influence, which is an important part of his extraordinary legacy. This work is now making a difference in the lives of millions of people worldwide. I look forward to honoring his 100th birth anniversary."
"Swami Satchidananda's influence on integrative medicine, the interfaith community, the peace movement, and the daily lives of millions of people, including mine, has been profound," says Peter Max. "I often talk about how the softness and kindness with which Swami Satchidananda spoke to people inspired me. The Yoga influence and the philosophy came into all my pores—I soaked it up like a sponge and began incorporating it into my work."
After a lifetime of dedicated service, Swami Satchidananda entered mahasamadhi (left his body) in 2002.
About Integral Yoga
Integral Yoga, with over 45 years of service in America, is renowned for its Yoga Teacher Training programs and for making Yoga accessible to everyone. There are Integral Yoga Institutes, centers, and teachers around the world. Satchidananda Ashram–Yogaville® in Virginia, USA, is the world headquarters of Integral Yoga. Integral Yoga International is dedicated to sharing the teachings of Sri Swami Satchidananda, which are based on promoting peace—both for the individual and for the world—through the principles and practices of Yoga, interfaith understanding, and dedicated lives of servicefulness.
For more information about the Global Garland and events planned, visit http://www.globalgarland.org.
For media inquiries and interviews, contact Claudia Kreiss, Kreiss Communications, at ckreiss(at)kreisscommunications(dot)com or call 973-746-0575.