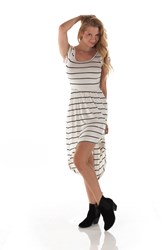 ...the draping of the Mermaid Maxi Dress will flatter all body shapes.
Los Angeles, CA (PRWEB) December 17, 2013
The Mermaid Maxi Dress by A2M USA™ is a new take on the classic maxi dress. This modern version of the casual, comfortable staple sports a curved high/low hemline, the dress falls just above the knees in the front, while nearly reaching the floor in the back. Cap sleeves that can be worn off the shoulder give the new maxi a youthful look. A scoop neck completes the new generation of the maxi dress.
But it is the back of the Mermaid Maxi Dress that will get people talking. With a sexy cutout and lace panel, the A2M USA Mermaid Maxi Dress can easily be worn for more formal affairs. Pair it with a blazer for a comfortable office look, or wear it alone to the beach for a sophisticated yet subtle look.
The Mermaid Maxi Dress is available in black with ivory stripes or in ivory with black stripes. Made of soft, breathable polyester, the draping of the Mermaid Maxi Dress will flatter all body shapes. Available in sizes XS, S, M & L. Like all A2M USA apparel, the Mermaid Maxi Dress is exclusively made in the U.S.A.
The Mermaid Maxi Dress is among the growing line of hip, youthful apparel "for the young & sexy," that's on display at the company's website.
A2M USA's web banners and social media posts proclaim that the company has joined the ranks of U.S. clothing makers who are passionate and vocal about keeping jobs in the United States. Accordingly, all of their clothing is made right here, in one of their three manufacturing hubs: New York, Los Angeles and San Francisco.
A2M USA was founded by an African-born European entrepreneur who started an American-inspired casual fashion line in Europe which caused a sensation among European youth. His dream was to conquer America, and he relocated here in 2012. With the launch of A2MUSA.com his dream has come one step closer to reality.