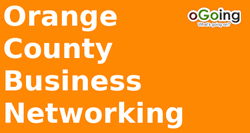 Orange County, CA (PRWEB) December 11, 2013
oGoing is transforming the Orange County Business Networking landscape. Over 10,000 local OC owners, entrepreneurs and service providers have joined oGoing within the last six months to discover new opportunities, promote their companies, and grow their business rapidly.
oGoing's Orange County Business Networking pages and groups on Facebook, Twitter, LinkedIn, Google+ and oGoing.com are connecting over 10,000 local professionals during the last six months, and growing at the rate of over 100 professionals daily.
"Orange County is home to over 300,000 small businesses and emerging companies. oGoing's mission is to connect all these businesses and help them achieve their full potential through online business networking and social media marketing." Sanjay Dalal, founder / CEO, oGoing Inc.
Before oGoing, local professionals were networking the old way; becoming members of local organizations or chambers, attending many events and mixers, and hoping to generate qualified leads through these events. This approach took considerable time and money, and was found to be ineffective for generating good leads (at most events, everyone is trying to sell to everyone else).
What is oGoing?
oGoing is an amazing business networking, lead generation and social media marketing platform for local Orange County businesses and professionals. It just takes five minutes for a local owner or entrepreneur to create a beautiful company or professional profile, and get going on oGoing.
Once a local Orange County member creates a unique profile, their business is immediately announced to the entire Orange County oGoing small business community to give them maximum exposure and visibility.
Local Social Media that Works
oGoing integrates with Facebook, LinkedIn, Twitter and Google+; if a company has created profiles on any of these networks, all they need to do is connect them through oGoing.
What's going on? When OC members post their updates with visuals, these updates are not only shared on the Live oGoing wall for everyone on the Orange County community to see, but they are also promoted simultaneously on all key social networks. Member posts get instant viral visibility through oGoing.
Many Orange County professionals share updates with messages that include website links and a call to action. When prospective customers read these messages and click on the attached links, this helps generate real website traffic.
Made for Small Business
oGoing is made of local Orange County area small business professionals, for business owners and service providers, and by small business entrepreneurs. oGoing is made for small business.
On oGoing, OC small business professionals ask questions, share insights, post news and events, announce offers, promote products and services, and express business needs on a very easy-to-use platform. In short, oGoing provides a great small business networking platform for sharing ideas and discovering new opportunities.
24/7 Mobile Business Networking
oGoing has built industry leading mobile smartphone apps to make it even easier for Orange County area professionals to connect, network and share on the go, anytime, all the time. oGoing mobile apps on iPhone and Android platforms are really easy to use, provide instant connections, and help members promote, share and grow their business to the next level. oGoing combines web, mobile and local business networking.
Local Orange County area small business owners, entrepreneurs, professionals and service providers can join oGoing today: