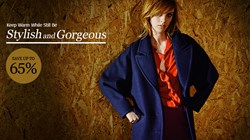 Hong Kong, China (PRWEB) December 16, 2013
To many Americans, a typical end-of-the-year shopping activity usually starts with Thanksgiving Day deals when families begin to get prepared for Christmas. Inarguably, after the festive season of Christmas when shopping activities should naturally decline, several retails stores still like to offer more deals at cheap rates to their customers. Bagsq.com, an international fashion store, is now set to offer After Christmas sales up to 95% discounts on exotic fashion goods for women who want to look cute and trendy today.
According to the statements of the Marketing Manager of Bagsq.com in a recent interview, it's revealed that the essence of Bagsq After Christmas sales for the end of 2013 is to enable customers find more deals that they could not get during shopping occasions, most especially the recent Black Friday and Cyber Monday shopping occasions. In an effort to correct a wrong notion on the offers, he states, saying, "there are people who think that the leftover stocks being generally offered as After Christmas sales with up to 95% discounts are those that are poor in quality. This is not the true state of the matter. The idea is that a typical retail store would like to clear its trading record for the year by selling all the goods that may be left on its shelves after the normal shopping seasons that precede the Christmas time."
The Marketing Manager also confirms that the offer of low prices on women fashion goods, for instance Bagsq After Christmas sales up to 95% discounts, would only serve to encourage the purchase of leftover goods. "Nothing is as good as looking trendy, irrespective of the season of the year. We have stylish and fashionable fashion items, and all interested customers can now have an access to the usual benefits that were typical of the last Cyber Monday deals we had on our storefront," he adds.
While speaking on the wide variety of fashion items that Bagsq.com has in stock for its After Christmas sales, the Marketing Manager reveals that women can find various Bagsq shoes and Bagsq handbags on the storefront. "We have high-quality Tassel Bucket bags, Rivet Korean Leather Women's Shoulder bag. As for the winter season, wearing our Block Long Panda Overcoat is more than keeping yourself warm when you consider elegance. Similarly, wearing our Chic Western Style Peep Toe Stiletto Heel shoes with our amazing Ol Style Bow Knot Puff Korean Princess dress would make any woman look greatly charming. These and many more are available as After Christmas sales up to 95% discounts!" he states emphatically.
It's as well reported that Bagsq.com offers international shipping on its products. It means that customers from other parts of the world can take an advantage of the After Christmas sales of the store. "Our fashion goods come with high quality, and a 30-day return guarantee is assured on every purchase. We therefore encourage shoppers to visit our storefront for the best deals as the year goes to an end," the Marketing Manager affirms.
For more information on various Bagsq shoes and Bagsq handbags being offered as After Christmas sales up to 95% discounts at Bagsq.com, go to http://bagsq.com.