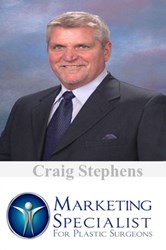 You are a Plastic Surgeon. Let me help you promote your name as a local expert in Plastic Surgery in all the media channels. I'm Craig Stephens, a Plastic Surgeon Marketing Specialist.
Key Largo, FL (PRWEB) December 12, 2013
Marketing Specialists for Plastic Surgeons, a Florida-based marketing group, has released new details about its upcoming contest http://freeplasticsurgerycontest.com/, which will allow applicants to compete for a surgery procedure from a doctor in their area. Craig Stephens, CEO and founder of the company, wants everyone to feel like they have a chance at winning the contest.
"The contest is all about the story," said Stephens. "We don't want people to think that just because they want a Botox procedure or a Liposuction procedure, doesn't mean that they will lose out to someone with a birth defect or a serious disfigurement that has plagued them their whole lives. It's all about how compelling that person's story is, and how emotionally charged it is."
In addition, Stephens says that those individuals that require a serious procedure should tell their story as well, as many plastic surgeons want to hear from them. "It is truly about the story," said Stephens. "The insights about what is holding prospective patients back from proceeding will be useful for the surgeon, as will be the publicity and good will that such a contest delivers."
Stephens says that the contest is a one-of-a-kind opportunity for anyone that has considered a procedure before but has never taken the next step to get their voice heard.Over 500 contestants will have an opportunity to apply, and Stephens doesn't want to limit that sample to people who want extensive work done. People that have considered breast augmentation and breast reduction surgery, facelifts, and tummy tucks are all urged to apply, according to Stephens.
"We want to see the entire spectrum of plastic surgery procedures," said Stephens. "No job is too big or too small. Each one of these procedures matters to other people as well as the contestant.Massive insight for the surgeons will be gained here and if it matters to someone, it's worth applying for the contest. The stories are at the center of this. The most authentic and passionate story will win this contest."
More details will come out as the contest is finalized by the company. Currently the application process is being fitted to handle media applications for video and voice files as well as text.
Stephens has given the contest a tentative start date of December 7th.
About Marketing Specialists for Plastic Surgeons:
Florida-based Marketing Specialists for Plastic Surgeons is a company directly involved in developing marketing techniques for both the cosmetic and plastic surgery industries. The company is owned and operated by Craig Stephens.
For further information,please contact Craig Stephens at: replies(at)talkingplasticsurgery(dot)info