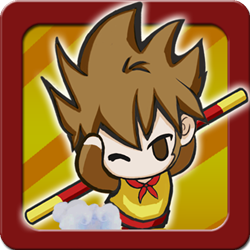 BenBen Information Technology Limited - Extending the Edge of Edutainment
(PRWEB) December 12, 2013
The game is based on Journey to the West, one of the Four Great Classical Novels of Chinese literature. The app user plays the part of Sun Wukong who uses various differing forms of magic spells to defeat bad and champion good. To cast any of these spells, the player must correctly read the magic words out loud. For example, to transform in to a cat, the player must say the word "cat" with the correct pronunciation. The game will change the character on the screen to a "cat" so this instantly lets you know you have pronounced the word correctly. Most monsters in the game can only be killed by voice triggered magic, so a player can learn how to pronounce many of the words and sentences correctly as they proceed through each different level of the game. At the moment the system is set up to recognize English only, but a Chinese version will be available soon.
This voice recognition game is aimed at children of 5 years and upwards so, as a consequence, the rules of the game are simple. This app is not intended to be complex as the emphasis is on making learning fun and enjoyable, not difficult. However, anyone who wants to improve their English will find this app extremely enjoyable and effective. It is far from limited to use for young children and can be equally enjoyed by adults who want to improve their English too. For native speakers, the game is helpful for their young kids to learn words. The game has more than 300 English words for the player to learn. Through playing the game, a player can learn some frequently used words, and understand some basic pronunciation rules.
For an example of how the game works, please check it out on YouTube at (https://www.youtube.com/watch?v=mTAU7wSnxzg).
For the gameplay, the game rules are directly adapted from the original story where the 72 transformations are the kernel skills of Sun Wukong. Transforming himself into a mouse, Wukong can pass through a hole in the wall. When transformed into a fly, enemies will ignore Wukong's existence, and when in the form of an eagle, he can fly over various obstacles. There are 81 levels in the game, which is the same as the number of tribulations. Some Eastern mythical elements are also included in the game, such as Bagua and Taiji.
Each level is in the form of a skirmish, with the backdrop being part of the original story. For example there is havoc in the Heavenly Kingdom or three battles with the Baigujing. There are between one and twelve monsters in each skirmish and Wukong must save some hostages in various levels. In other levels the player must find some hidden tasks, or the player must also use the special ability of transformation to overcome obstacles. Tangseng, who is the Wukong's Master, is incapable of fighting in the story and is frequently captured by monsters. In certain levels, Wukong must distract wardens to rescue Tangseng. There are also powerful evil spirits who can create spell-binding illuminations and players must crack the magic code to dispel them. In the original story, many evil spirits transform themselves into civilians to cheat people and this also happens in this game. In wild country, if a player finds a woman tied to a tree, it will be safer to prepare for a fight before attempting to rescue her.
There are 3 types of enemy in the game - Kobold, Elite, and Boss. Kobolds can be killed by using a variety of magic powers, while there are also Wukong's health potions. After transforming them to weaker animals, Wukong can regain any lost health by transforming himself into their natural enemy and eating them. As a result, a clever tactical part of the game is for the player to consider whether they should leave some Kobolds for later on as a means to boost health points. Elites are more powerful, their bodies are not directly engaged in a battle, so normal attacks won't damage them and different tactics have to be deployed. Boss fights are far from easy, especially in high-difficulty mode. In master mode, a Boss may often instantly kill Wukong's teammate. However, Wukong can revive the teammate by placing himself next to them.
Players can say the word "apple" to summon an apple to kill a Kobold. For a group of Kobolds, a player can say "sheep" to cleverly transform the Kobolds into sheep, then say "tiger" to transform Wukong into a tiger to kill the sheep, which are the kobolds. Wukong can also dispel those people who are unfortunately cursed. In addition, there is a Prince in the game who has been cursed and turned into a frog. Unlike other tales, a curse can be removed with a true love kiss and Wukong can overcome any curse by casting the corresponding magic spell. The main purpose of the game is to provide the person learning English as a new language with a test bed to practice pronunciation. Adults can also test their pronunciation by playing the game as well as children.
The game has been successfully developed by BenBen Information Technology Limited, Hong Kong, using an innovative voice input model (a US patent is pending). In the game, education content and game rules are naturally integrated. The game itself is directly adapted from the original story of Journey to the West. As a result, the game provides full-scale game experiences. During the process of learning English, every time a player masters a word or sentence, the progress of their ability is directly reflected in the game itself. This instant reward scenario when learning is very difficult to achieve when using more traditional education methods.
Learning a new language can be a long process, and learning the correct pronunciation of new words is not always easy. The good news is that West Journey - Spell Force now provides a low-cost platform for learners to practice speaking English. Not only is it a fun game to play, but learning no longer becomes boring or a chore as you automatically learn new English words as you play. This is a MUST game for anyone and everyone who wants to learn English as a foreign language.
The demo of the game is available on Google Play marketplace now (https://play.google.com/store/apps/details?id=com.benbeninfo.west.demo), and the game will be officially released in Jan, 2014.