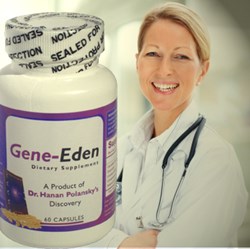 Winter is a time when all kinds of viruses are floating around just waiting to infect someone. We recommend that parents and their children take Gene-Eden-VIR to help their immune systems more efficiently target latent viruses. – Mike Evans, polyDNA
Rochester, NY (PRWEB) December 12, 2013
Many parents may not realize that even healthy kids can die from the flu. The CDC said that "830 kids died from flu-related complications between October 2004 and September 2012 (1)." In addition, "The report also shows that 43% of the kids who died from flu complications were otherwise healthy and didn't have high-risk medical conditions such as asthma, diabetes, certain types of cancer, congenital heart defects or neurological disorders such as cerebral palsy or epilepsy (1)." Children with those types of health problems are at a greater risk of dying from flu complications.
The CDC recommends that kids get the flu vaccine. "The CDC recommends that all children 6 months or older get the flu vaccine every year, and this report shows that any child can be at risk for severe complications from influenza (1)."
However, there are multiple studies that show the flu vaccine may not be enough to stop the flu virus. For example, one study found that the protection offered by the flu vaccine, which protected against the most common strain in 2012 (H3N2), was very low. In other words, it was not effective. As study authors wrote, "Overall… protection against influenza (H3N2) infection was low, with significant intraseasonal waning." This is according to a study published in the European medical journal Eurosurveillance on January 31, 2013 (2).
Another study showed that the effectiveness of the flu vaccine was low, and that a person's immunity against the flu went away in a short amount of time."These results suggest a low preventive effect of the 2011/12 seasonal influenza vaccine, and a decline in VE (vaccine effectiveness) with time since vaccination." This study was published on January 31, 2013 in the European medical journal Eurosurveillance (3).
Parents need to know the best methods to help prevent the flu. polyDNA believes that parents and children should be vaccinated against the flu. In addition, the CDC says that people should, "Avoid close contact with people who are sick. When you are sick, keep your distance from others to protect them from getting sick too. If possible, stay home from work, school, and errands when you are sick. You will help prevent others from catching your illness. Clean and disinfect frequently touched surfaces at home, work or school, especially when someone is ill. Get plenty of sleep, be physically active, manage your stress, drink plenty of fluids, and eat nutritious food." This information was published on a page last updated on January 11, 2013 on the CDC's website (4).
polyDNA also suggests that, parents and children should take extra precautions by taking Gene-Eden-VIR, a natural remedy that was designed to target latent viruses. "Winter is a time when all kinds of viruses are floating around just waiting to infect someone. We recommend that parents and their children take Gene-Eden-VIR to help their immune systems more efficiently target latent viruses." – Mike Evans, polyDNA
A study published on August 12, 2013 in the peer reviewed, medical journal Pharmacology & Pharmacy, in a special edition on Advances in Antiviral Drugs, showed that Gene-Eden-VIR reduced viral symptoms. Study authors wrote that, "Individuals… reported a safe decrease in their symptoms following treatment with Gene-Eden-VIR (5)." The post marketing study authors also wrote that, "We observed a statistically significant decrease in the severity, duration, and frequency of symptoms (5)."
To learn more about Gene-Eden-VIR, visit http://www.gene-eden-kill-virus.com. All orders of Gene-Eden-VIR are completely confidential, and no information is shared or sold to any third party. Privacy is assured.
###
References:
(1) Even healthy kids can die from flu complications. Published on October 28, 2013.
http://www.usatoday.com/story/news/nation/2013/10/28/kids-death-flu-complications/3179639/
(2) Vaccine Effectiveness of 2011/12 Trivalent Seasonal Influenza Vaccine in Preventing Laboratory-Confirmed Influenza in Primary Care in the United Kingdom: Evidence of Waning Intra-Seasonal Protection. Published on January 31, 2013.
http://www.eurosurveillance.org/ViewArticle.aspx?ArticleId=20389
(3) Decline in Influenza Vaccine Effectiveness with Time After Vaccination, Navarre, Spain, Season 2011/12. Published on January 31, 2013.
http://www.eurosurveillance.org/ViewArticle.aspx?ArticleId=20388
(4) Preventing the Flu: Good Health Habits Can Help Stop Germs – CDC. Page Last Updated on January 11, 2013.
http://www.cdc.gov/flu/protect/habits.htm
(5) Gene-Eden-VIR Is Antiviral: Results of a Post Marketing Clinical Study. Published on August 12, 2013.
http://gene-eden-kill-virus.com/PP_Gene-Eden-VIR-is-Antiviral.pdf
polyDNA is a biotechnology company that develops dietary supplements using the unique scientific method developed by Dr. Hanan Polansky, which is based on Computer Intuition.
In addition to his unique scientific method, Dr. Polansky published the highly acclaimed scientific discovery, called Microcompetition with Foreign DNA. The discovery explains how foreign DNA fragments, and specifically, DNA of latent viruses, cause most major diseases.
polyDNA developed Gene-Eden-VIR, an antiviral natural remedy that helps the immune system kill latent viruses.