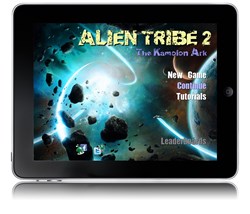 Alien Tribe 2 is an awesome game with great gameplay. If you like 4X real-time strategy games then this is a must have!
Munich, Germany (PRWEB) December 13, 2013
Ukando Software is pleased to announce the release of the long-awaited 4X real-time strategy game Alien Tribe 2. Friends of space games like "Master of Orion 2" will feel at home with Alien Tribe 2 because colonization and research are core elements of the game.
The 4X stands for "eXplore", "eXpand", "eXploit" and "eXterminate", and Alien Tribe 2 offers all these different strategies for the player - from exploring the galaxy to extracting raw materials or fending off hostile attacks. The 4X approach is supported by over 45 missions / quests of the areas of "Military", "Economy", "Exploration" & "Expansion". This means that the player is constantly faced with new challenges, and once a player successfully completes a mission / quest, he is then rewarded with new build options, research points, the in-game currency called GEO or other various items.
Alien Tribe 2 Video Trailer:
http://www.youtube.com/watch?v=T9uLyMeGjDk
Alien Tribe 2 player's tasks and game features:

Find new solar systems and start to colonize planets
Explore planets and build different kind of stations and ships
Extract the raw materials and build supply chains to your stations
Build weapon platforms and war ships to defend yourself
Scan the deep space for asteroids and start mining them
Increase your skills in the research center
Randomly generate game environment
Over 45 different missions
Collect the internal GEO currency to buy extras or trade it for resources
and much more....
Availability:
On December 13th 2013, Alien Tribe 2 will finally be available at the Apple App Store (iPad only). To celebrate the launch of Alien Tribe 2, the game will have a special introductory price of $2.99 (USD/CAD) for a limited time. The game will then be available for the regular price of $6.99 (USD/CAD).
Alien Tribe 2 - App Store Download:
http://itunes.apple.com/app/id653463017
Company Infomation:
Based in Dingolfing, Germany since 2010, Ukando Software designs, develops and crafts applications for mobile devices. Owner, developer and creative director Stefan Hasslbauer has 20 years+ experience in the software industry and has worked on many successful projects that range from startups to Fortune 500 companies. Alien Tribe 2 was developed with the help of Stefan Ritter, who won the 2nd prize at the Worldwide Samsung Mobile Game Developer Contest in 2005. Mutual friend Christian Wirsig, band leader of the transatlantic electro pop duo "no:carrier", contributed music & sound FX to Alien Tribe 2.
For more information or media inquiries, contact Stefan Ritter of Ritter Mobile Technology on behalf of Ukando Software at +49 170 585 0357 or contact(at)ritter-mobile(dot)com.