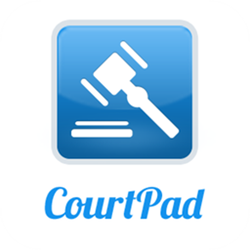 TAMPA, FLORIDA (PRWEB) December 17, 2013
December 10, 2013 - Eleventh Dimension, LLC, a Tampa based app development company and a leader in the creation if iPad apps for lawyers of small firms, announces today the launch of its newly designed and developed CourtPad App 2.0 on the iTunes App Store.
While CourtPad App has only been on the marketing since early 2013, this updated design has created great anticipation for its current users.
The app, which allows lawyers to share documents and images using an integrated Dropbox account, is one of the few lawyer case management apps that also incorporates the already existing calendar on the iPad (Google, Yahoo, Outlook, etc). By integrating calendars, lawyers won't have to worry about missing an appointment or court hearing due to referencing an outdated calendar.
Additional features that puts this iPad pocket lawyer app above its competition is the ability to track billable hours directly within the app, update client information in real time when necessary, and secure case management information with a user login.
"CourtPad App 2.0 will give our current and prospective lawyers and attorneys the ability to integrate with Dropbox so that they can connect calendars, case information and other commonly accessed files securely in one and to streamline everyday process," said Maulik Sharma, President of Eleventh Dimension, LLC and creator of CourtPad App.
TO DOWNLOAD
The attorney and lawyer iPad app is available for download on the iTunes App Store for $19.99. This app requires iOS6 or later and is completely optimized for the iPad.
For reviewing app bloggers and members, contact CourtPadApp(at)gmail(dot)com to access a free download of the app.
ABOUT ELEVENTH DIMENSION, LLC
Eleventh Dimension, LLC is a provider of applications that are designed and developed to help professionals realize their maximum potential in their respective fields. With plans to break into applications for iPhone as well as Andriod in the future, Eleventh Dimension, LLC hopes to rapidly expand in the applications business.
For more information on CourtPad App 2.0, visit http://www.CourtPadApp.com.