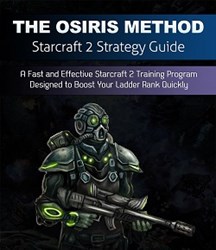 (PRWEB) December 11, 2013
OsirisSC2Guide.com has just published a new Starcraft 2 Terran units list. The new units list is completely up to date with Heart of the Swarm and can be found in full at http://www.osirissc2guide.com/starcraft-2-terran-units.html.
The new Terran units list provides players with everything they need to know about Terran units in Starcraft 2. Not only does the new guide cover the basics of Terran units like cost, damage, upgrades, and abilities, but the guide also covers advanced topics such as army composition. It is important for Starcraft 2 players not only to understand the function of each unit, but to also understand how different units complement one another. According to the new guide, armies of just one unit type do not work very well and instead armies that blend multiple unit types together tend to work best. The best unit combinations are discussed thoroughly in the new guide.
Terran units were much easier to understand when the game first game out, but the release of the Heart of the Swarm expansion pack greatly affected the dynamics of the typical Terran army. This expansion pack introduced the Widow Mine and the Hellbat, two Terran units which have quickly become staples in all types of Terran playstyles. The new units list not only covers these new units in depth, but also provides players with tips and strategies for using these new units.
According to the guide's creator, Cody Collins, the purpose of this updated Terran units list is to provide Terran Starcraft 2 players with a one-stop shop for understanding the Terran army. By taking a look at the statistics underlying each unit along with reading about Terran unit mechanics and common army compositions, Collins hopes that Terran players will walk away with a solid understanding of Terran units that will translate into improved in-game performance.
About OsirisSC2Guide.com
OsirisSC2Guide.com is a website dedicated entirely to Starcraft 2 guides and strategies. The website features everything from specific strategies for the competitive 1v1 ladder to in-depth campaign and achievement walkthroughs for players interested in the single player aspect of the game. For more information, visit the website at http://www.osirissc2guide.com.