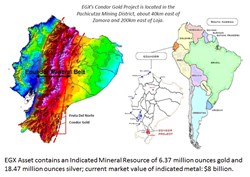 Toronto, Ontario (PRWEB) December 16, 2013
Why would an investment banker who has raised $1 billion dollars through stock exchange listings, capital raisings, private placements and debt mandates, abandon his rosewood desk to run an exploration company in the remote mountains of Southern Ecuador?
Answer: for 6.4 million ounces of gold indicated resource and 2.1 million ounces gold inferred resource (both NI 43-101 resources).
Glenn Laing, the President, CEO and Director of Ecuador Gold and Copper (EGX-TSX.V) has 35 years' experience in the mining and financial industries.
"Earlier in my career, I was a Managing Director at RandGold in South Africa," explains Laing, "In 1993 I came to Canada to be part of TD bank's mining team. After leaving TD bank I had my first real success in the Canadian junior mining and exploration scene with Lytton Minerals, a diamond play in the Canadian Arctic that went to a market cap of over $300 million after the discovery of a number of diamond pipes."
"In 2010, a couple of guys came to me and asked me if I was interested in the Condor gold project in Ecuador."
"At that point, Kinross had paid Aurelian Resources $1.3 billion for the Fruta Del Norte project, just north of Condor. Kinross over-paid for the project, then cut a deal with the Ecuadorian government that their shareholders didn't like, went back to the government, attempted to renegotiate and eventually the whole deal fell apart in 2013."
Back in 2010 Ecuador introduced a formal mining law. "This turned out to be fantastic opportunity for us. We picked up the Condor project for about $2.50/ounce in the ground. Forty times less than Kinross paid. In 2011 and 2012 we raised $12 million privately through various financings plus another $13 million this year. With these funds we have drilled out about 6 million ounces, so all in all including the purchase of the project we are at less than $3 per ounce."
EGX is focusing on five main deposits within the Condor Complex which include: 1) Santa Barbara 2) Los Cuyes 3) Soledad 4) El Hito 5) Chinapintza (Joint Venture). The Condor gold project has an NI 43-101 indicated resource of 6.4 million oz gold (averaging 0.62 g/t) and inferred resource of 2.1 million oz gold (averaging 0.52 g/t). Also a 43-101 indicated resource of 18.5 million oz silver (averaging 2.43 g/t) and inferred resource of 4.5 million oz silver (averaging 1.09 g/t) and a 43-101 inferred resource of 1.1 billion lbs copper (0.31%).
"Ecuador's President, Rafael Correa, has a PhD in Economics from the University of Illinois," states Laing, "he cares deeply about the plight of his people but he is a business pragmatist who understands the oil revenues will run out one day."
"Ecuador is the last mining frontier. You have Colombia to the north and Peru to the south. The Andes Mountains straddles all three countries, so it takes little imagination to figure out that these gold deposits carry on all the way through Ecuador."
In November 2012, EGX announced a joint venture with the Chinese Guangshou Group for the exploration and development of the Chinapintza deposit. EGX will retain a 30% interest in the 300 tonne-per-day gold operation while Guangshou funds the construction and development of the asset. "This is a narrow vein, high grade deposit, well suited to the Chinese type mining operators like Guangshou"
"Our flagship asset is Santa Barbara," states Laing, "There is a reason I brought in a Chinese player to Chinapintza. China and Ecuador already have a strong financial partnership. The development of the Santa Barbara deposit will very likely involve Chinese partners. We are ensuring that they are having a good experience, in terms of the permitting and the mining protocols in Ecuador".
Highlights from the recent 10,000 metre drill program include: Hole DSB-23 (Santa Barbara) intersected almost continuous gold and copper mineralization over 496 meters from 204m to 700m grading an average of 0.90 g/t gold and 0.12% Cu.
Hole DCU-41 (Los Cuyes) encountered 149.0 m @0.84g/t Au and 9.0 g/t Ag and Hole DEH-05 (El Hito) intersected relatively continuous copper mineralization over 703 meters from 8.0m to 711.0m grading an average of 0.31% Cu and 1.18 g/t Ag.
Ecuador has a rapidly improving mining regime. There is a well understood favorable mining geology in the Andean Mineral belt. Mining contracts have recently been negotiated with Chinese-backed EcuaCorriente. INV Metals recently acquired IAMGOLD's Quimsacocha Project. EcuaCorriente is proceeding with construction of Mirador copper and gold mine. All business in Ecuador is transacted in US dollars.
The Condor project is located approximately 40 km east of the town of Zamora in the Pachiicutza Mining District. Four types of mineral systems exist: 1.) Low sulphidation epithermal gold 2.) Structurally controlled vocaniclastics & breccia pipes 3.) Polymetallic (Au, Ag, Pb, Zn) mesothermal veins and 4.) Structurally controlled high grade epithermal gold.
"I had a good life as an investment banker," confirms Laing, "but this is a once-in-a-lifetime opportunity to build something big that will benefit the host country and the shareholders for generations. I live and breathe Ecuador Copper and Gold 24 hours a day."
In an interview last week, Kevin MacLean, Senior Vice-President of Sentry Precious Metals Fund stated that the last time his fund declined this dramatically, it subsequently went up 600%. The macro fundamentals for gold are intact: the vast increase in the monetary base will devalue currencies and inflate the value of hard assets.
EGX anticipates completing a Preliminary Economic Assessment by Q1 2014. It is currently trading at $.11 with a market cap of $22 million.
Legal Disclaimer/Disclosure:
A fee has been paid for the production and distribution of this Report. This document is not and should not be construed as an offer to sell or the solicitation of an offer to purchase or subscribe for any investment. No information in this article should be construed as individualized investment advice. A licensed financial advisor should be consulted prior to making any investment decision. Financial Press makes no guarantee, representation or warranty and accepts no responsibility or liability as to its accuracy or completeness. Expressions of opinion are those of the author's only and are subject to change without notice. Financial Press assumes no warranty, liability or guarantee for the current relevance, correctness or completeness of any information provided within this article and will not be held liable for the consequence of reliance upon any opinion or statement contained herein or any omission. Furthermore, we assume no liability for any direct or indirect loss or damage or, in particular, for lost profit, which you may incur as a result of the use and existence of the information, provided within this article.
Also, please note that republishing of this article in its entirety is permitted as long as attribution and a back link to FinancialPress.com are provided. Thank you.