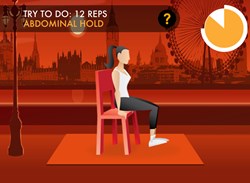 Power 20 workouts help people stay fit, get stronger, and improve their blood sugar levels.
New York, NY (PRWEB) December 11, 2013
Power 20 proudly announces that two of its Android apps, Power 20 Fitness Trainer Pro and Power 20 Amazing Abs Pro, join 16 other health and medical apps to be the among the first of apps in the country to pass the rigorous standards established as part of the Happtique Health App Certification Program (HACP). In order to receive certification, each app must pass both technical testing—the verification of privacy, security, and operability by global testing leader Intertek—and content testing as evaluated by relevant clinical experts.
Power 20 applications guide users through 20-minute, full-body workouts they can do at home without any equipment. Fitness Trainer Pro is a full body workout, while Amazing Abs focuses on the back and core muscles. The apps are available on iOS and Android, but the Android apps are the first to pass the certification program.
"We are thrilled to be part of the Happtique program," said Arshad Chowdhury, Founder of Power 20. "Our apps help people stay fit, improve balance, and control their blood sugar. We have put lots of resources and research into these products, so it's validating that doctors can recommend Power 20 apps to patients with confidence."
Power 20's certification status is groundbreaking in the mobile health world, which remains the one area of healthcare that is largely unregulated and untested. With more than 40,000 apps in the marketplace, clinicians and consumers have difficulty determining which apps are trustworthy. Participating in the certification process demonstrates a developer's commitment to improving mHealth for providers and patients.   
"When providers and patients see the Happtique certification seal, they know that they can trust that the app will protect personal information, operate as promised, and that the clinical information included in the app has been documented and verified," said Corey Ackerman, President & COO of Happtique. "We believe certification will be critical in establishing the necessary provider/patient confidence that will spur the adoption of mHealth in routine clinical treatment and chronic care management."
ABOUT POWER 20
Power 20 is a diet and exercise company based in New York City. The company offers a suite of workout apps on iOS and Android, and a holistic weight loss program that combines meditation with diet and exercise called The Power 20 Method.
ABOUT HAPPTIQUE
Happtique is a virtual marketplace and distribution platform that enables the discovery, display, and delivery of health apps and digital content. Happtique's mission is to help providers and patients integrate mobile health technology into routine clinical care and daily health management/daily life. In 2013, Happtique created the Health App Certification Program (HACP), which assesses the operability, privacy, security, and content of medical, health, and fitness apps. Happtique was founded by GNYHA Ventures, a wholly owned, for-profit subsidiary of the Greater New York Hospital Association.