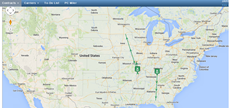 Nixa MO (PRWEB) December 12, 2013
BulkLoadsNow.com, a load board specifically for the dry and liquid bulk industry, recently released a web-based dispatch program, Load Organizer, after several repeated requests from many of its members. Shippers and brokers use Load Organizer to manage freight in one, centralized program and share data with co-workers across all office locations to match and manage truck freight more efficiently. Load Organizer is also integrated directly with BulkLoadsNow.com, allowing shippers to automatically post loads online for carriers to bid on directly, eliminating extra steps and hassle of posting loads in multiple locations. Load Organizer includes helpful tools, like calculating grain bushels and tonnage to automatically determine rates based on weight as well as rate per miles associated with loads.
"We've had shippers continue to ask us to create a load tracking system specifically for our industry," said Jared Flinn, Operating Partner at BulkLoadsNow.com. "Most grain companies have multiple offices throughout the US and in the fast-paced, busy day the don't communicate well when it comes to truck freight. This system allows a company to collectively see all freight lanes throughout the organization and match up loads as well as find opportunities to move more loads. If traders can find trucks available, they'll make more trades, which is incremental to their bottom line."
Some other features included in Load Organizer is insurance and contract tracking, PC Miler, instant email and text load confirmations, maps to view freight movements and automatic reload features to match loads up together. Because Load Organizer is web-based, accessed via http://www.loadorganizer.com, it's accessible to the shipper from anywhere they have access to the internet.
For more information, to see a demo or receive a trial shippers and brokers can contact Jared Flinn.
CONTACT:
Jared Flinn, Operating partner
jared(at(bulkloadsnow(dot)com
800-518-9240 Ext 2
About BulkLoadsNow.com
BulkLoadsNow.com is an online community of professionals in North American's bulk freight industry. Our shipper members are transportation logistics managers of grain, fertilizer, aggregates, feed ingredients and all agriculture commodities. Our carrier members pull hopper bottoms, walking floors, end dump trailers, belt trailers, live floors, pneumatic and liquid tankers. We provide to our members the industry's most innovative bulk freight solutions including an enhanced load board, database of all carriers in North America, instant communication tools, industry forums and news updates, and much more.