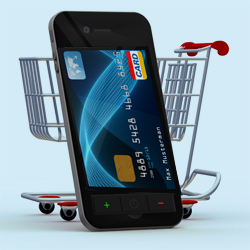 More people than ever before are using Smartphones to browse the web.
Toronto, Ontario (PRWEB) December 11, 2013
The smartphone is arguably the most life-changing invention of the 21st century and recent data suggests that Canadians are at the head of the handheld revolution.
Statistics Canada reports that as the number of Canadians with internet connections has risen to an all-time high of 83% in 2012, more people than ever before are using smartphones to browse the web. Fifty-nine percent of Canadians reported using a wireless device to access the internet in their home in 2012 - an increase of 14 percentage points from just two years earlier.
"The smartphone is revolutionizing the way we access the internet, even in our own homes when the option of a personal computer is available," said Parry Rosenberg, Vice President of Sales and Marketing at MONEXgroup. "The number of Canadians using their handheld devices to browse the web and make credit purchases have risen each year, and that trend is set to continue into the future."
Figures from comScore report that of Canadian smartphone penetration has reached 62% - and the rate of smartphone ownership is outpacing that of standard feature phones.
But, what does this mean for businesses? New data from Google reveals that Canadians are embracing the smartphone as more than just a tool for pleasure. Twelve percent of Canadians reported their intention to make credit purchases on their smartphone in 2013 - an increase from 7% last year, while 50% will use their device as some part of the shopping experience.
MONEXgroup offers businesses smartphone-friendly mobile payment solutions, enabling consumers to make credit purchases online from a device they're always carrying. Any time the shopping experience can be made easier and more convenient for customers, it's a win for businesses.
Make sure businesses are keeping up with the latest trends in consumer purchasing and turn to MONEXgroup for all of payment processing needs.
MONEXgroup is the number one payment processing provider in Canada offering the lowest rates in the industry. Our services include: debit card and credit card point-of-sale (pos) terminals, mobile, integrated and e-commerce online payment products. MONEXgroup serves over 20,000 merchant accounts across Canada in all market segments including: restaurants, business-to-business, professional services, leisure and hospitality.
Holly Murray
MONEXgroup
Marketing Communications
HMurray(at)MonexGroup(dot)com
T: 647 204 0197
http://www.monexgroup.com