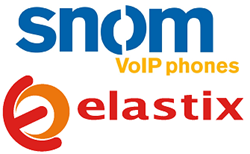 Elastix is one of the companies leading the charge with its open source unified communications platform and snom looks forward to expanding this relationship with our very popular 7xx series business phones.
Berlin, Germany, and Guayaquil, Ecuador (PRWEB) December 11, 2013
snom technology, a leading developer of IP business phones, and PaloSanto Solutions, an Elastix company announced today that snom 7xx series and 8xx series business phones are now certified with PaloSanto's Elastix unified communications solution.
The snom 710, 720, 760 and 870 phones are the latest snom business phones to achieve full integration with Elastix's open source VoIP software and become members of Elastix Hardware Certification Program, joining the snom 300, 320 and 821 models.
Elastix open source unified communications server integrates voice functions with instant messaging, fax and video conferencing for a complete unified communications solution. It also supports automatic endpoint configuration for easy provisioning of large numbers of snom phones. Because it is open source, it provides for the addition of third party modules to maximize communications capability according to individual business needs.
The certification furthers snom's commitment to interoperability with best-of-breed VoIP providers, and also to integrating with open source platforms that offer flexibility, customization and lower cost.
Elastix is a leading open source unified communications and IP telephony software in Latin America, and this partnership highlights snom's momentum and growth in the region.
"The open source VoIP community in South America continues to grow and expand as businesses in the region recognize the top and bottom line benefits of standards-based IP telephony and unified communications delivered with fully integrated best of breed SIP technology partners," said Mike Storella, chief operating officer for snom in the Americas. "Elastix is one of the companies leading the charge with its open source unified communications platform and snom looks forward to expanding this relationship with our very popular 7xx series business phones."
Elastix is based on Asterisk, an open source framework for building communications applications. It powers IP PBXs, VoIP gateways, conference servers and other solutions and is used by thousands of companies worldwide. Elastix is released under the license GPLv.2. Users are free to use it for commercial or personal use subject to the conditions under its license.
"With the Elastix Hardware Certification Program our objective is to have a public list of officially tested hardware so users can make better and more confident decisions when buying equipment for their implementations," said Eduardo Abad, head of the EHCP. "Having snom expand their catalog of Elastix Certified phones with these top-quality models is very important to us and beneficial for our users."
The certified snom phones include:

snom 710: The snom 710 is suitable for small or large-scale deployments in a variety of business scenarios. It supports four SIP identities and has a rich set of everyday business telephony features.
snom 720: The snom 720 comes with two Gigabit Ethernet ports, one for Power over Ethernet, and a USB connector to expand its functionality. It supports 12 SIP identities and is Bluetooth headset ready. It is the ideal phone for a general workforce and executives.
snom 760: the snom 760 has a 3.5-inch color display for rich information such as presence, photo caller ID and surveillance. It has 12 programmable function keys, and 12 SIP identities and is a suitable option for senior managers.
snom 870: the 870 has a color touchscreen, 3-way conference, Gigabit Ethernet switch, wideband audio, call swapping and an intuitive user interface.
To learn more about snom's channel activities in the Americas, go to http://www.snomchannel.com; follow us on Twitter; like us on Facebook; join our LinkedIn group; or add us on Google+.
About snom
Founded in 1996, snom develops and manufactures VoIP telephones and related equipment based on the IETF open standard, SIP (Session Initiation Protocol). Recognized for its high-quality, customizable and cost-effective business phones, snom is also differentiated by the company's history in the VoIP industry and its dedication to high security standards. All of snom's products are designed to be fully interoperable with leading communications equipment vendors. snom customers and partners benefit from the interoperability and flexibility that snom telephones offer, including plug-and-play integration and universal compatibility with standards-based SIP VoIP platforms, applications or services. In September 2011, the snom 300 and snom 821 became the first and only SIP phones to achieve "Qualified for Microsoft Lync" status – Microsoft's top distinction for fully tested interoperability and compatibility with Microsoft Lync. snom's leadership continues today, based on its six-phone UC edition portfolio – the industry's largest and most extensive family of standards-based business phones qualified for Microsoft Lync enterprise environments.
snom is headquartered in Berlin, Germany, with offices in Italy, France, the United Kingdom, Taiwan and the U.S. that support a global network of channel partners in Europe, the Americas and Asia Pacific. For more information, visit http://www.snom.com.
About Elastix
Elastix is a VoIP telephony and Unified Communications solution. It integrates the best tools available for Asterisk-based PBX's in a simple web-based interface for easy administration. It also provides its own set of utilities and allows for the creation and distribution of additional modules promotable by their own developers, thus being the first "Unified Communications Applications Store" specific to the sector, another milestone for this successful Latin American company. All these features make it one of the most powerful open source software packages available in the market. For more information about Elastix visit http://www.elastix.com.
Media Contacts
snom - North America
John Gates
Elevate Communications
+1 (617) 861–3651
john(at)elevatecom(dot)com
Mike Storella
18 Commerce Way, Suite 6000
Woburn, MA 01801
+1 (781) 569-2044
mike.storella(at)snom(dot)com
snom - Global
Christian Baier
Jason Green
D-10117 Berlin, Germany
+49-30-39833-106/105
christian.baier(at)snom(dot)com
jason.green(at)snom(dot)com
Elastix
Michael Gonçalves
Elastix Marketing Director
msn: michael(at)elastix(dot)com
EC: +593-4-6008010
USA: +1-877-3527849 Ext. 223
###