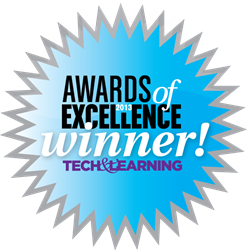 'Barracuda has been able to meet K-12 IT demands by providing security and storage solutions to schools that are easily deployed, managed and cost effective.' -- Rod Mathews, GM Storage, Barracuda
Campbell, CA (PRWEB) December 11, 2013
Barracuda Networks, Inc. (NYSE: CUDA), a leading provider of cloud-connected security and storage solutions, today announced that Barracuda Message Archiver and Barracuda Web Filter were selected as winners in Tech & Learning magazine's 31st Annual Awards of Excellence in the Best Upgraded Products category.
"Our K-12 customers face many IT security and storage challenges that range from meeting regulatory compliance to protecting students online, and in many cases have limited IT budgets and staff," said Rod Mathews, GM Storage, Barracuda. "Barracuda has been able to meet K-12 IT demands by providing security and storage solutions to schools that are easily deployed, managed and cost effective – and it's great to be recognized for this by Tech & Learning."
Entries were divided into two categories: New Products and Best Upgraded Products. Winning selections include software and web-based products, as well as hardware and AV tools. Among the high-quality offerings being honored are resources addressing management, safety, communication, differentiated learning, assessment, and other key areas in education.
Barracuda Message Archiver and Barracuda Web Filter were recognized as winners because they have made significant enhancements since the previous versions and evolved with changing technology to continue to offer the highest quality experiences for educators and students.
Barracuda Message Archiver
The Barracuda Message Archiver is an email archiving solution that creates a complete, easily searchable archive of all email messages sent or received. It supports compliance with industry standards and retention requirements, as well as legal discovery requirements and liability management. Email infrastructure is optimized by minimizing the load on email servers. With the intuitive web interface, Outlook Add-in, and mobile apps, it's easy to configure settings and access archives from anywhere. To learn more, visit: http://www.barracuda.com/archiver.
Barracuda Web Filter
The Barracuda Web Filter is a web content filtering solution that enables the connected business to benefit from new technologies and online tools, without being exposed to lost productivity, wasted bandwidth, and data loss. As new requirements emerge, such as social-networking control, the Barracuda Web Filter is automatically updated with new capabilities to meet those requirements. It enables highly granular, real-time visibility into online activity, broken down by individual users and applications, letting administrators create and enforce effective content and access policies. Included free are unlimited agents and software licenses to enforce content and access policies on mobile devices being used outside the corporate network. To learn more, visit: http://www.barracuda.com/webfilter.
About Barracuda Networks, Inc. (NYSE: CUDA)
Barracuda provides cloud-connected security and storage solutions that simplify IT. These powerful, easy-to-use and affordable solutions are trusted by more than 150,000 organizations worldwide and are delivered in appliance, virtual appliance, cloud and hybrid deployments. Barracuda's customer-centric business model focuses on delivering high-value, subscription-based IT solutions that provide end-to-end network and data security. For additional information, please visit http://www.barracuda.com.
Forward-Looking Statements.
This press release contains forward-looking statements, including statements regarding the functionality and performance of Barracuda products. You should not place undue reliance on these forward-looking statements because they involve known and unknown risks, uncertainties and other factors that are, in some cases, beyond the Company's control and that could cause the Company's results to differ materially from those expressed or implied by such forward-looking statements. Factors that could materially affect the Company's business and financial results include, but are not limited to, a highly competitive business environment and customer response to the Company's products, as well as those factors set forth in the Company's filings with the Securities and Exchange Commission, including under the caption "Risk Factors" in the Company's prospectus filed with the SEC on November 6, 2013 pursuant to Rule 424(b) under the Securities Act of 1933, as amended. The Company expressly disclaims any intent or obligation to update the forward-looking information to reflect events that occur or circumstances that exist after the date of this press release
Barracuda Networks, Barracuda and the Barracuda Networks logo are registered trademarks or trademarks of Barracuda Networks, Inc. in the US and other countries.