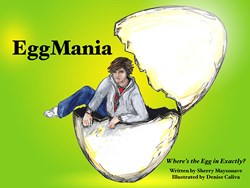 EggMania is a stunning eBook that educates and entertains kids.
Austin, TX (PRWEB) December 11, 2013
EggMania: Where's the Egg in Exactly? has earned the coveted QED Seal for eBook Quality, Excellence, Design. It is considered the "Good Housekeeping Seal of Approval™" for eBooks and apps. EggMania is also being featured in Kirkus Reviews and has a special promotional price of $4.99. Written by Sherry Maysonave and illustrated by Denise Caliva, EggMania is an enhanced Apple iBook aimed at children ages 6-12.
Honored by F+W Media, EggMania successfully passed the stringent 13-point test established by their panel of eBook developers to receive the QED designation. The QED Seal is the industry standard for portability and readability in ebooks. The QED judging process was produced in consultation by the advisory council of the Publishing Innovation Awards.
Kirkus, which took similar complimentary notice of EggMania, has been an authoritative voice in book discovery and reviews for 80 years. The Kirkus review of EggMania states: "[The story] is set in a kingdom of waxy pastels with a kind of Yellow Submarine kookiness, and the interaction is vigorous without being frantic … this is far from solely eye candy … Here's one e-book that doesn't lay an egg." The review was published online on December 7, 2013 and will be published in the December 15th edition of Kirkus Reviews magazine.
Special pricing is in effect for EggMania through December 31, 2013. It is being featured at $4.99, a 50% discount, on the Apple iBookstore.
EggMania is a multi-sensory, rhyming tale of adventure loaded with brainy enrichment. Acknowledging that children learn through play, EggMania is a stunning eBook that educates and entertains kids growing up in today's digital world. It has received the IBPA Benjamin Franklin Digital Award for innovation in eBook publishing, the Best Children's Illustrated eBook IPPY 2013 Medal, the Mom's Choice Award 2013 "Excellence Seal of Approval," and the kidSAFE seal.
Jacqueline Kennedy once said, "There are many little ways to enlarge your child's world. Love of books is the best of all." She might have been talking about EggMania which is a versatile learning tool in the areas of language development, creative writing, art, science, and speech. EggMania's 190 pages feature original art, advanced vocabulary with touch-sensitive definitions, and an educational game with over 150 mind-boggling, narrated "Fun Facts."
The next eBook in the ManiaTales series, EarMania: Where's the Ear in Regardless? will be released in 2014 by Empowerment Productions. View the EggMania's entertaining video trailer and eBook educational tips for parents and educators at ManiaTales website.