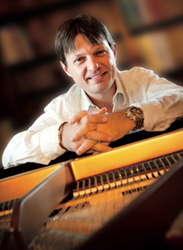 I needed a location that was as powerful and moving as the music that I was playing.
Honolulu, HI (PRWEB) December 12, 2013
Transporting one of the world's finest grand pianos to a highly corrosive environment in the "surfing capital of the world" had several people feeling more than a little nervous last weekend. David Hicken's "Carol of the Bells" music video involved a whole team of people, plus one expensive Steinway.
The English composer and pianist had to put any worries aside and keep his fingers crossed that the predicted storm would hold off for the filming of his new music video.
Hicken lives in Haleiwa on the North shore of Oahu. Known for its epic surfing conditions in winter (not that Hawaii really has a winter), Haleiwa is home to international surfing competitions, and where wave heights can easily reach 25 feet.
What item does not belong in that environment? A grand piano - particularly a Steinway.
Steinway pianos are hand-made and amongst the most expensive of all grand pianos. Great care is taken to protect metal parts from corrosion through the use of string covers and dehumidifiers. Putting a $60,000 instrument next to raging surf took careful planning and preparation so as not to prolong the exposure to high humidity and sea air.
David Hicken was born and raised in England, but now makes Hawaii his home. He played for the Queen when he was only eighteen, and signed his first record contract at nineteen. He has performed extensively in Europe and the US, and has worked with legendary musicians such as Patrick Moraz of "Yes" and "Moody Blues" fame.
"Carols of Christmas" is Hicken's eighth CD, and features 12 solo piano arrangements of traditional Christmas Carols. His new music video is based on the signature track "The Bell Carol" which is his arrangement of the famous Ukrainian "Carol of the Bells". The CD and video were produced by his own company, Enchanting Music Inc.
When asked why he would put such and expensive instrument in a precarious environment, he replied "I needed a location that was as powerful and moving as the music that I was playing".
Luckily, the storm that was predicted for the day held off until late afternoon, and the piano was returned to its home none the worse for wear.
"Carols of Christmas" is available from Amazon, iTunes, CDBaby and DavidHicken.com.