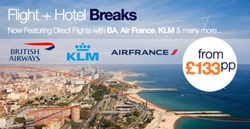 (PRWEB UK) 14 December 2013
City breaks specialist, Superbreak, has introduced scheduled flights to its European transport program, opening up more destinations and services to its customers. Over the past few months, Superbreak's development team have worked on integrating the new global distribution platform, which now includes direct flights with an additional 20+ airlines, including British Airways, KLM, Air France, Lutfthansa, Emirates, Virgin and United Airlines.
Superbreak customers will now have the choice of taking direct flights to European destinations such as Copenhagen, Oslo, Helsinki, Lisbon and Milan, as well as far flung locations including Dubai and New York. The introduction of Virgin and United Airlines will only serve to strengthen the firms' New York short breaks offering after its recent addition of Broadway theatre shows. Hotel and flight inclusive packages start from around £180 per person for three nights in a three star Rome hotel including breakfast and return flights from London Gatwick.
The Yorkshire based tour operator continues to expand its overseas product offering with its range of 2-5* hotel and apartments, expanding sightseeing and entertainment extras and both flight and Eurostar travel. Since launching its flights inclusive packages online in December 2011, the tour operator has reported online growth to destinations such as Paris, Barcelona and Prague.
Chris Hagan, Head of Overseas, Transport and Ancillaries Product at Superbreak commented: 'Whilst we have offered our customers the option to take short breaks in popular destinations in Europe for some time now by using a selection of the best low cost carriers, this exciting development allows us to offer more choice of departure airports with some of the world's biggest airlines."
"The addition of KLM alone opens the city of Amsterdam to areas of the country we have been unable to serve in the past. Take into account other airlines such as British Airways, Lufthansa, Swiss and many more and the world is your oyster. It also allows us to offer a greater range of far flung destinations where our product is currently evolving and I am confident in the near future Superbreak will be as strong in destinations such as New York and Dubai as it is currently in key European hot spots."
About Superbreak
Superbreak is the market leader for short breaks and hotels throughout the UK and beyond, including hotels in Edinburgh and London to Paris and even Dubai. Superbreak is part of Holiday Break plc. Based in York, England, Superbreak specialises in booking city breaks in 2-5 star hotel accommodation throughout Britain for the leisure traveller. Superbreak also work with various travel providers offering a range of rail breaks, P&O mini cruise breaks, flights & more.
With 5000 plus hotel partners in worldwide locations and with great availability and rates for theatre breaks, events at the O2 Arena, various popular attractions and national and international rail partners, Superbreak can offer an outstanding depth and breadth of UK and Overseas short break products.