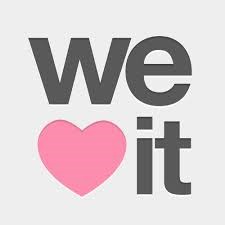 We are a community centered on self-expression and the entire tone of We Heart It is positive and supportive due to our 'bully-proof' design. We believe this is an important factor in our rapid growth and why we are able to garner such strong partners
San Francisco, CA (PRWEB) December 12, 2013
Image-based social network We Heart It announced today the launch of its new Partnership Program with initial partners including Condé Nast brands Lucky and Teen Vogue as well as Wattpad, BeFunky, and Popbasic. Designed to help users more easily share their favorite images from popular media, retail sites, and image-based apps, the Partnership Program also makes it simpler for We Heart It users to engage with their favorite brands.
Growing incredibly quickly, We Heart It has over 25 million monthly users and is expanding by over one million new members a month, the vast majority of whom are young and female. Over 80% of We Heart It's users are 24 years old or younger.
"We are a community centered on self-expression and the entire tone of We Heart It is positive and supportive due to our 'bully-proof' design. We believe this is an important factor in our rapid growth and why we are able to garner such strong partners like Lucky, Teen Vogue and Wattpad at the onset of the program," said Ranah Edelin, CEO of We Heart It.
"Our partners recognize that the social media landscape is shifting rapidly, especially for teens, and it is important for them to have a presence on fast-rising social networks like We Heart It."
The We Heart It Partnership Program offers several benefits for brands including:

Verified accounts for established brands
Advanced ability for users to search for brand-managed accounts and collections
Revamped on-boarding flow to help users discover new brands
Ability to increase traffic to partner sites via links from partner images
Direct sharing to We Heart It from a partner website or mobile app via We Heart It's sharing tools and new Share API
"We're thrilled to be partnering with We Heart It, one of the fastest growing social networks. Now the Wattpad community will have more ways to discover and share the things they love," said Aron Levitz, Head of Business Development at Wattpad, the world's largest community of readers and writers.
The Partners Program is open to brands, influencers, and services interested in having more control of their presence on We Heart It as well as those interested in driving more traffic back to their sites. We Heart It's partners benefit when they become integrated into the conversations and sharing taking place across the We Heart It service.
Prospective partners can find more information about We Heart It's partnership program at weheartit.com/partners.
About We Heart It
We Heart It is an image-based social network focused on inspiration, expression and creativity. The service has a community of 25 million monthly users who use We Heart It to discover, collect and share images with friends on its highly rated mobile apps and website. We Heart It is adding a million new members per month, over 70% of whom are mobile users. We Heart It's Android App was also selected as one of the Best Apps for 2013 by Google, Play, Google's Android App Store. The company has raised more than $8 million in funding and is located in San Francisco, CA. You can get more information at weheartit.com.
# # #
PR Contacts
Dabney Lawless
Lawless PR
Dabney(at)lawlesspr(dot)com
585-472-4338