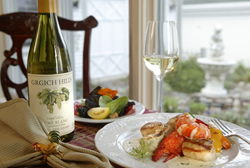 (PRWEB) December 13, 2013
The holidays are still in full swing, with many people charged with planning and preparing meals for the big day. Instead of the same old holiday fare, several families are looking outside of the box for holiday breakfast, brunch and dinner ideas—ideas destined to create memories not easily forgotten. GetMaineLobster.com urges those to look no further by stepping inside founder and CEO Mark Murrell's kitchen to try some of his favorite, deliciously decadent Maine lobster holiday recipes created by chefs at GetMaineLobster.com.
A trip to any supermarket this time of year will reveal plenty of the same old food items for sale that are transformed to make the same tired holiday meals. That is all well and good, but the holidays are not only a time for breaking out those traditional dishes passed down through generations, they're meant for surprises that make powerful statements to those held closest to the heart.
Here are nine of the best Maine lobster recipes one will ever need to create unforgettable meals during the holiday season:
1. Soft Tarragon Scrambled Eggs with Buttery Lobster and Sesame: The most decadent of breakfasts that features soft and creamy seasoned scrambled eggs paired with buttery and rich lobster. The cool sour cream adds a nice cooling and tart element to the dish to help cut all of the rich flavors.
2. Thanksgiving Baked Stuffed Lobster: Replace the turkey with some stuffed Maine lobsters. This is a very simple and straightforward classic version of baked stuffed Maine lobster with a few fine-tuning steps to make a perfect turkey replacement for everyone's Thanksgiving table.
3. Roasted Chestnut and Ricotta Agnolotti with Maine Lobster and Kale Chips: Combining Maine lobster with creamy cheese and roasted chestnut pasta is a win for everyone during the cold winter months. The sweet lobster bridges perfectly with the nutty brown butter, creamy roasted chestnut and cheese agnolotti.
4. Whole Maine Lobsters with Chestnuts and Cider: This is a gorgeous and, more importantly, delicious centerpiece for any Thanksgiving or Christmastime feast.
5. Holiday Lobster, Mushroom and Leek Stuffing: An incredible upgrade to the standard stuffing recipe that includes fresh Maine lobster and hearty mushrooms.
6. Holiday Pan-roasted Lobster in Exotic Mushroom Sauce: This is one of Get Maine Lobster's most tantalizing lobster dishes that is rich and elegant yet easy to prepare.
7. Holiday Maine Lobster and Corn Fritters with Quick Pickled Cucumber: This is a great way to utilize ingredients that have been lying around the kitchen to make a very sweet and savory appetizer with only a little heat from cayenne and ultimately cut with the acidity of quick pickles.
8. Paleo Pan-seared Lobster Tail with Roasted Squash and Kale: GetMaineLobster.com chefs have created yet another healthy Paleo meal that promises to satisfy the taste buds and the health-conscious individuals.
9. Holiday Lobster Risotto with Parmesan and Brown Butter: Silky smooth in texture with rich, delicate hints of the flavor of butter, brandy and sautéed onion mingling with perfectly cooked Maine lobster tails. This recipe is easy to prepare and yet has the elegant presentation fit for your most special feast.
These holiday recipes and many more can be viewed here. To learn more about GetMaineLobster.com and to browse its wide range of seafood specials, visit GetMaineLobster.com or call (866) 562-4817.
About GetMaineLobster.com
GetMaineLobster.com, a division of Black Point Seafood and Black Point Gourmet, hand-selects the finest Maine lobster, seafood and beef products for convenient distribution throughout the United States. Their passion is to make fresh, quality seafood readily available to customers across the country, which is why they buy from only the most trusted, well-established suppliers to ensure that they receive the finest products available.
GetMaineLobster.com was selected out of the more than four million small American businesses served by Chase bank to represent its new Platinum Business Checking product for its 2013 national advertising campaign.