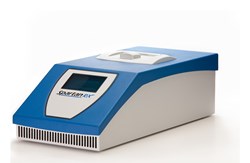 'Drs. Koltowski, Aradi, and Serpytis are innovative cardiologists, and we are privileged to participate in their study of periprocedural myonecrosis.' - Paul Lem, M.D., CEO of Spartan Bioscience
Ottawa, Ontario (PRWEB) December 12, 2013
Spartan Bioscience today announced the start of a 150-patient study of personalized medicine for cardiac stent patients in Poland, Hungary, and Lithuania. The study is sponsored by the Medical University of Warsaw, and is entitled "Bedside Genetic or Pharmacodynamic Testing to Prevent Periprocedural Myonecrosis During PCI (ONSIDE TEST)".
The Spartan RX CYP2C19 System is being used to test heart attack patients receiving cardiac stents. Carriers of CYP2C19 genetic mutations are receiving personalized antiplatelet therapy with Plavix® (clopidogrel) or Effient® (prasugrel).
The principal investigator is Lukasz Koltowski, M.D. and his collaborators are Daniel Aradi, M.D., Ph.D., and Pranas Serpytis, M.D., Ph.D. Patients are being enrolled at Medical University of Warsaw, Heart Center Balatonfüred, and Vilnius University Hospital Santariskiu Klinikos. The study is scheduled to finish in September 2014.
"Drs. Koltowski, Aradi, and Serpytis are innovative cardiologists, and we are privileged to participate in their study of periprocedural myonecrosis," said Paul Lem, M.D., CEO of Spartan Bioscience.
About CYP2C19
The CYP2C19 enzyme metabolizes approximately 15 percent of all prescribed drugs(1), including important drug classes such as anti-platelet therapies, beta blockers, anti-depressants, proton pump inhibitors, and anti-epileptics. About 30% of Caucasians, and more than 50% of Asians and Indians carry CYP2C19 gene variants that reduce response to drugs metabolized by CYP2C19.(2,3,4,5)
About Spartan Bioscience
Spartan Bioscience is the leader in on-demand DNA testing.(6) Spartan is bringing complete sample-to-result DNA testing systems to medicine. Spartan's technology fully integrates DNA collection, extraction, and analysis, with an intuitive interface that is easy to operate. For the first time, healthcare providers and their patients can get DNA results on demand. For more information, please visit our website at: http://www.spartanbio.com.
The Spartan logo is a registered trademark of Spartan Bioscience Inc.
Plavix is a registered trademark of Bristol-Myers Squibb/Sanofi Pharmaceuticals.
Effient is a registered trademark of Eli Lilly and Company.
1. dbSNP Short Genetic Variations. Reference SNP (refSNP) Cluster Report: rs12248560
2. Damani SB, Topol EJ. (2010). J Am Coll Cardiol. 56:109–11.
3. Chen M et al. (2011). Atherosclerosis. 220(1):168–71.
4. Oh IY et al. (2012). Heart. 98(2):139–44.
5. Jose R et al. (2004). Fundamental & Clinical Pharmacology. 19(1): 101–105.
6. Roberts JD et al. (2012). Lancet. 379:1705–11.