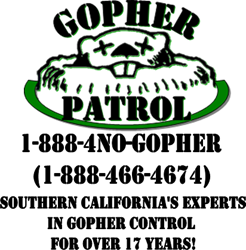 Gophers do not hibernate in the winter.
Riverside, CA (PRWEB) December 14, 2013
Gopher Patrol has been providing gopher control for 17 years in Riverside, CA. They offer gopher baiting, gopher trapping and, where available, gassing for gophers. A common question they have is if gophers hibernate? The weather in Southern California does not drop significantly in winter, as it does in other states. Cold temperatures can cause gophers to burrow deeper into the ground to escape the cold. In California, because the temperatures do not get too cold, gophers have no problem continuing to go about their daily routines of foraging for food, digging new tunnels, and creating new mounds.
Gophers do have two breeding cycles, one in spring and another in the fall. Those breeding cycles do cause more activity for a few reasons. One reason is an extra gopher in the tunnel system. Gophers are territorial by nature. Only when they breed will the gophers reside in the same tunnel system. Another reason would be newborn gophers. Pup gophers learn to dig and search for food in the same tunnel systems as their parents. Once the new gophers reach maturity, they leave their parent tunnel system and create their own. This may happen only 10-20 feet away from the original tunnel system, or they may travel to the other side of the property to set up their new home.
When winter arrives gopher activity sometimes will decrease but only in certain instances and in certain areas. For over 17 years gopherpatrol has been treating for gopher control, and they have customers who because of their geographical location require ongoing gopher control, regardless of the current temperature. "That's a common misconception we run into a lot from the customer, they hear that gophers are only active in Spring or Summer. Sometimes they receive that info from other less experienced pest control companies who do gopher control also," states Richard Hernandez, Service Manager at Gopher Patrol. "That's why you always need to hire the experts." Richard remarks.
Indeed Gopher Patrol shows why they have maintained quality gopher removal for 17 years now in Southern California with their unmatched experience in this field of pest control. You can learn more about Gopher Patrol at gopherpatrol.com or call them at 1-888-466-4674. They we're also recently recruited by A&E for an episode where they used their expertise to help the producers of the show get rid of gophers in the backyard of a home they were flipping. They also have a Facebook page and a few groovy videos on YouTube you can watch.