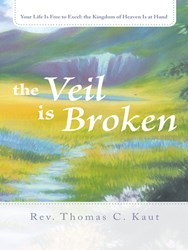 Many people have lost control and direction in their lives because they concentrate too much on their flesh-lives rather than eternal.
Spindale, N.C. (PRWEB) December 13, 2013
"The crucifixion of Jesus Christ at Calvary carries a more profound effect on Christianity even today, than most people realize," Author Thomas Kaut said.
Kaut's new book, "The Veil is Broken," discusses the ramifications of this event on today's world. While most people saw the rending of the flesh as a removal of the physical veil between God and man, Kaut emphasizes the rending of the spiritual veil as well.
"Many people have lost direction or control over their lives because they are concentrating too heavily on their flesh-selves," Kaut said, "We need to reevaluate and return to the concentration of our souls."
Calvary was the advent of Jesus' ministry as well as the completion of his work. The events of that place occurred 2,000 years ago, but despite their importance the details seem to be lost on most.
Kaut is a minister of 17 years, but has been researching this pivotal event for over 32 years. "The Veil is Broken" discusses not only the continued powerful role of Jesus for modern folks, but also sheds new light on the importance of John the Baptist.
"My main goal is to bring back the realization of what Jesus did in Calvary and how people can appreciate that in their daily lives," Kaut said, "God has given us much, we simply need to accept it."
"The Veil is Broken"
By: Thomas Kaut
SC-ISBN: 978-1-4697-9565-2
SC-Retail price: $23.95
Available at barnesandnoble.com and amazon.com.
About the author
Thomas Kaut has been a hard worker for his entire life while avidly researching the events of Calvary for the past 32 years. He became an ordained minister 17 years ago, and retired at 55 to dedicate his life solely to the lord.