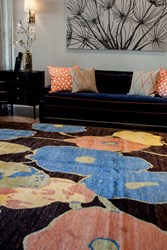 Beverly Hills, CA (PRWEB) December 18, 2013
World renowned producer and distributor of handmade rugs, Caravan Rug Corp, has just released the second in their line of modern designer rugs, the Cloud Bamboo Area Rugs Collection. This ultra-modern and environmentally friendly collection is available in eight unique styles, each of which comes in a wide variety of sizes and colors.
These incredible rugs show off Bamboo's softer side, embracing a wide spectrum of colors and textures while bringing a level of comfort most people would not expect from bamboo.
This collection of hand knotted rugs offers a palette as calm or as bold as you'd like, and the combination of silky softness and bamboo's natural shimmer creates a truly cloud-like effect.
Among the many highlights are the bold colors of the Thai style, the stunning floral designs of the Exotic, the heavenly flow of River's irregular lines and the depth and sophistication of the Cool style.
You can find this fabulous contemporary collection online or by booking an appointment to view them at Caravan's showroom, which is located at 8725 Wilshire Boulevard, Beverly Hills.
In addition to having the largest retail rug showroom in the Los Angeles area, Caravan is also a manufacturer and distributor of fine handmade area rugs. They supply their branded creations to a large network of dealers all over the country. Caravan owns several manufacturing centers in Afghanistan, Pakistan, India and Nepal, where these rugs are hand woven in the centuries-old method.