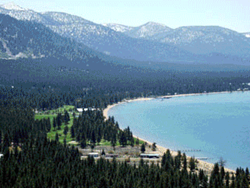 Last week's storm left us with over two feet of fresh snow in various places around the Lake. Just what the doctor ordered for Christmas break!
Lake Tahoe, CA (PRWEB) December 12, 2013
Today, the editors of VirtualTahoe.com released a list of fun things to do in Lake Tahoe this December over winter vacation. With the first big snowstorm dumping snow on Lake Tahoe last week, this Christmas break in Lake Tahoe is looking promising. "Last week's storm left us with over two feet of fresh snow in various places around the Lake. Just what the doctor ordered for Christmas break!" says Lindsey Skinner, the editor of VirtualTahoe.com. "The snow brings a whole new list of fun things to do in Lake Tahoe," Lindsey adds, "so we encourage everyone to get outside."
Here is VirtualTahoe's list of favorite things to do during winter break in Lake Tahoe:
1.) Skiing/Snowboarding (what else!)
It might be obvious, but any Lake Tahoe activity list would be incomplete without skiing/snowboarding. It's time to dust off the equipment and hit the mountains! Most ski resorts are already open, so get out on the slopes. Many hotels offer complimentary shuttles to ski resorts, so hop on board and enjoy a day on the slopes.
2.) Helicopter Tour
People are always saying they know where the best view in Lake Tahoe is, but there is no beating the view from a helicopter! Reno Tahoe Helicopters offers tours of South and North Lake Tahoe, so be sure to fly above the Lake and enjoy a view only the birds can brag about.
3.) Sleigh Rides
Perfect for a romantic getaway, a Lake Tahoe sleigh ride is a quintessential Lake Tahoe activity. Snuggle up with the whole family, or enjoy the tour with a sweetheart and explore the pristine beauty of the magnificent terrain around the Lake. Sleigh rides cost $50, but are well worth the money spent.
4.) Heavenly Holidays at Heavenly Village
The holidays season is a time for caroling, apple cider, gift shopping and family time. Enjoy all these things at Heavenly Holidays at the Heavenly Village. Taking place from Dec. 21 - Dec. 31, Heavenly Village lights up it's holiday lights and gets into holiday mode! Festivities bring lights, decorations, carolers, magicians, live ice sculpture making, and many other family friendly events!
5.) SnowGlobe Music Festival
End the year with a bang at the SnowGlobe Music Festival. This year's line up includes Tiesto, Kaskade, Snoop Dogg (or Snoop Lion), Beats Antique, Gramatik and others! The SnowGlobe festival is taking place Dec. 29 - 31, and features fireworks, live music (obviously), and live snowboarding/skiing demos. Festival takes place at the Lake Tahoe Community College campus.
6.) Snowmobiling
Zoom through the powder this winter break on a snowmobile! Self guided tours with Sierra Mountain Sports are available 9 am - 5pm daily (weather permitting). Snowmobiles are $50 per machine, and can fit up to 2 riders. Enjoy the day exploring Lake Tahoe on a snowmobile.
7.) Lake Tahoe Cruises
Daily cruises venture out into the cold waters of Lake Tahoe, so bundle up and take the two hour narrated Emerald Bay Sightseeing Cruise. Not only does this tour provide incredible views of the Lake, it also informs patrons about the history of the area and geographic information. Learn about the area on a cruise, and enjoy the beautiful winter season.
Enjoy what is hopefully a very snowy season in Lake Tahoe! For more activities to enjoy (other than skiing), read this article.