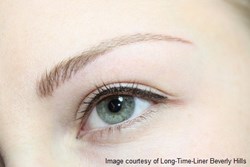 Give her a gift she will treasure everyday!
Beverly Hills CA (PRWEB) December 13, 2013
For the gift that keeps on giving, Long-Time-Liner USA Inc. is the leading service provider in semi-permanent cosmetics.
This season, one of the most important gifts is that which makes the recipient feel great about herself. Popular beauty-centric gifts include spa treatments, hair and make-up services, and massages. While all of these gifts are lovely and appreciated, once they are redeemed, they are done. Long-Time-Liner is a service that will remain with the wearer for 1 to 3 years. She can appreciate and love her new look everyday with long-lasting effects.
The company specializes in creating and redefining the subtle facial features of its clients.Many women, and men, begin to lose their eyebrows as they age. Some people don't have much hair to begin with, and some have very light and sparse brows. Long-Time-Liner can create a new, subtle and beautifully shaped eyebrow to perfectly frame the eyes.
Eyebrows may not seem like a very important feature to those who have them, however, those who do not are very self-conscious about their appearance. They sometimes seek out inferior services in desperation and are then left with mishapen, discolored and overall unsatisfying results. These results can potentially last for years and may take numerous laser treatments to lighten them.
Long-Time-Liner offers gift certificates to give to those who may need the service, but wouldn't buy it for themselves. This year, give her a gift she will treasure every day when she sees her own happy face looking back from the mirror!
For a limited time, Long-Time-Liner is offering 10% off Gift Certificates for the Holidays.
Long-Time-Liner is located in Beverly Hills California, at the heart of the beauty and luxury product center. There have been many beautiful and satisfied customers from all age groups, nationalities, all matching their own personal style. Semi Permanent Conture® Make-up can make a significant improvement to anyone's beauty. They offer make-up consultations with removable make-up pencil, and new clients can literally see the difference at the end.
More information can be found via their website, Facebook, and Twitter.