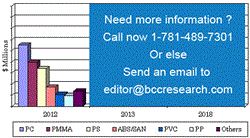 Global Rigid Transparent Plastic Market To Grow To Nearly $25.2 Billion By 2018
Wellesley, MA (PRWEB) December 12, 2013
According to a new technical market research report, Rigid Transparent Plastics: Global Markets Outside North America, from BCC Research (http://www.bccresearch.com), the global rigid transparent plastic market was valued at $18 billion in 2012 and is expected to reach $19.1 billion in 2013. BCC Research projects the market to grow to nearly $25.2 billion by 2018, and register a five-year compound annual growth rate of 5.7% from 2013 to 2018.
After recovering from the economic downturn caused by the global financial crisis, the rigid transparent plastics market rebounded in 2010. Indeed, with applications in a range of industries, including healthcare, automotive, construction, electronics, and household goods, some sectors of this market are predicted to experience relatively brisk growth in this five-year period, while others will record slow growth.
The rigid transparent plastics market comprises thermoplastics such as polycarbonate (PC), polypropylene (PP), polyvinyl chloride (PVC), polystyrene (PS), acrylonitrile butadiene styrene (ABS), poly-methyl methacrylate (PMMA), styrene block copolymers (SBC), styrene methylmethacrylate (SMMA), cellulosic, polyamide (PA), and polyethylene terephthalate (PET). The two largest markets include the PC market--PC, PMMA, PS, ABS, PVC, PP, etc.--the largest market, in both value terms and volume terms, and the Chinese market. Among the regions addressed in this report (China, Asia, Europe, South America, and ROW), China is by far the largest regional market for rigid transparent plastics. BCC Research expects the Chinese market to continue to grow and increase its market share from 2013 through 2018.
Significant trends in this market include mergers and restructuring, expansion of oil and chemical producers through the industrial chain, raw material replacement, improvement of production efficiency, and breakthrough resin or raw material technologies. Other trends include emission regulatory laws and solutions for environmental issues. All of these factors will shape consistent growth in this market for the foreseeable future.
This technical market research report from BCC Research provides a comprehensive understanding of the recent advances and trends in manufacturing, applications, technologies, and global and regional markets for rigid transparent plastics. The structural dynamics of this industry are outlined, along with profiles of key manufacturers in the United States, China, Japan, Korea, India, Brazil, France, Germany, Taiwan, and other countries or regions. This report does not cover the North American rigid transparent plastics market, which is described in a separate report from BCC Research, Rigid Transparent Plastics. This study also analyzes trends in technology and the impact of governmental regulations and international agreements. Patents involving rigid transparent are also discussed.
Information sources for this report include experts, executives, professors and officials in rigid transparent plastics companies, other plastics companies, petrochemical companies, oil companies, industrial associations, universities, trade organizations, and governmental departments. Other sources for the study include online research, patent literature, technical journals, trade magazines, governmental data, and conference papers from China, Japan, Korea, and the United States
This report is intended for manufacturers and suppliers of rigid transparent plastics (PC, PVC, PS, ABS, PMMA, PP, etc.). Oil companies, chemical producers and plastic molders in various industries will also benefit from this report.