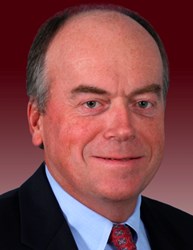 "Mark is the perfect choice to serve as the architect of our long-term sales and delivery strategy." Eliassen Group CEO Dave MacKeen Jr.
Wakefield, MA (PRWEB) December 12, 2013
Eliassen Group, one of the largest technology staffing and consulting services firms in the country, has appointed Mark Biscoe to president, effective immediately.
Biscoe has been an executive in the professional staffing industry for 29 years. He joined Eliassen Group in 2012 after spending the previous eight years at Kforce Professional Services, where he was president of the North Region and oversaw the technology and financial consulting and permanent placement divisions in over twenty-five Northeast and Midwest markets.
In making the announcement, Eliassen Group CEO Dave MacKeen Jr. said, "Mark's promotion is part of our internal plan to enhance ourselves as an organization as we look to increase our market share and grow as a company across the country in all of the markets we serve. I am excited, as is Mark, at how he will serve as the architect for devising a long-term sales and delivery strategy that will always have the needs of our clients' at the forefront of all we do on a daily basis."
Prior to his appointment, Biscoe was responsible for Eliassen Group's field operations in the Great Lakes, Quad States, and Mid-Atlantic regions. He will now be overseeing all regions for the firm including New England, as well as the company's life sciences, biometrics and data solutions, national delivery and direct hire divisions.
"I am excited about what the future holds for all of us at Eliassen Group," Biscoe said. "With the constant changes in technology and the life science industries and the on-going competition for talent, our ability to identify and deliver the most effective human capital solutions for our clients is a differentiator that Eliassen Group has built over the years. I am honored to carry on this endeavor in partnership with my Eliassen Group teammates and our national clients, who mean so much to all of the communities in which they are located."
Before coming to Eliassen Group, Biscoe served in executive leadership roles at Renaissance Worldwide, Intepros Consulting and Belenos.
About Eliassen Group
Founded in 1989, Eliassen Group drives the success of our clients, consultants, and employees within Technology Staffing and Consulting, Agile Services, Life Sciences Consulting, Workforce Management, Healthcare IT Staffing and Government Services. For 24 years, we have been at the forefront of innovation by uniting talented people and quality solutions within successful companies to drive their business forward. Eliassen Group is a privately held company headquartered in Wakefield, MA. For more information please contact us at 1-800-354-2773.
###