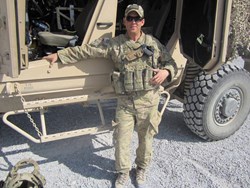 We hope this opportunity will provide a veteran with the tools to succeed in the trucking industry.
Knoxville, TN (PRWEB) December 12, 2013
Solid entry-level driver training and job skill development is closely linked to a truck driver's safety, well-being and good health. It is part of the mission of the St. Christopher Truckers Development & Relief Fund (SCF) to support the truck driving community by helping put skilled, healthy drivers on our highways. It is also part of our mission to support the development of truck driving as a solid, respectable career – like those critically needed by our military veterans who have come home needing more than just a job, but a rewarding career.
For that reason, the SCF announced today that it will distribute a $10,000 trade school scholarship available to the men and women who have served our nation's armed forces. Executive Director Donna Kennedy commented that, "With all that our military veterans have sacrificed for us, The St. Christopher Fund feels truly honored to be able to provide a scholarship to a veteran in need. We hope this opportunity will provide one of them with the tools to succeed in the trucking industry."
The St. Christopher Fund (SCF) is still accepting scholarship applications for the TBS Factoring Service Trade School Scholarship. The $10,000 scholarship will be awarded to one veteran whose intention is to learn the driving trade or advance their driving career. The recipient of the scholarship must show financial need and must demonstrate a desire to further her/his career in a trucking industry related career. The scholarship will be awarded without regard to sex, race, color, national origin, or religion.
The SCF Board of Directors will oversee the scholarship and allocate the monies to the trade school of the chosen applicant's choice upon confirmation of enrollment. Applications will be available online at http://www.truckersfund.org or you can request one be mailed/faxed to you by calling 865-202-9428 or emailing contact(at)truckersfund(dot)org. Applications will be accepted through December 31, 2013. The scholarship winner will be announced in early January.
This scholarship program was made possible by a $10,000 grant from TBS Factoring Service, LLC, of Oklahoma City, a family business providing flexible cash flow solutions to independent truckers.
About TBS
The TBS family-ownership group has over 50 years experience serving independent truckers. TBS Factoring Service, LLC, a freight bill factoring company created in 2004, and based in Oklahoma City, is one of the nation's leading providers of simple and flexible cash flow solutions for independent trucking companies. Founded in 1968 as Truckers Bookkeeping Service, the family-owned company provided permitting and fuel tax reporting services. In 1998, the company began offering truck insurance through TBS Insurance Agency. For more information about TBS Factoring Service, visit their website at http://www.tbsfactoring.com or call 800-207-7661.
About the St. Christopher Fund
The SCF was founded in late 2007 as a 501(c)(3), not-for-profit organization. The SCF's mission is to provide assistance to professional truck drivers whose medical problems have led to financial hardship. By the end of November 2013, the Fund had been able to provide over $507,000 in financial assistance to more than 900 drivers. Assistance has been in the form of direct payment for household expenses, prescriptions, and medical bills.
For more information about the SCF or to make a donation, visit http://www.truckersfund.org, send a letter to P.O. Box 30763, Knoxville, TN 37930, call 865-202-9428, or send an email to contact(at)truckersfund(dot)org.