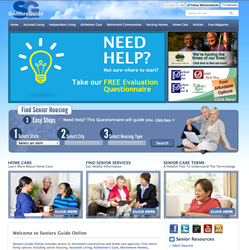 The average adult child lives 480 miles away from their parents.
Richmond, Virginia (PRWEB) December 17, 2013
In addition to articles about finding the right retirement community and home care agency, SeniorsGuideOnline.com's latest articles will focus on the caregiver with tips and information to better help those struggling to support an ailing loved one.
Just in time for the holidays, "Signs During The Holidays That Helps is Needed" focuses on what adult children, friends and family should look for when visiting an aging relative during the holiday months of November, December and January.
"The average adult child lives 480 miles away from their parents," says Katharine Ross, Vice President of Sales & Marketing for Seniors Guide.
"Sometimes holiday months are the only times throughout a year that a busy, active adult has time to spend and observe their older loved ones for signs of declining health," says Ross.
Other articles, including "When a Loved One Has Back Surgery: Tips for the Caregiver" focus on the important role a caregiver plays in the recovery of someone post-surgery.
Tips including pain management, activity level, and when to contact a Doctor during recovery are included in the article, intended to instruct and assure a caregiver.
Additional articles are compiled from Seniors Guide's extensive collection of aging articles in the Caregiver Resources section of the SeniorsGuideOnline.com article library.
Seniors Guide, a Richmond, Va.-based company publishes Seniors Guide magazines throughout Cincinnati, Ohio; Dayton, Ohio; Indianapolis, Ind.; Raleigh-Durham, N.C.; Richmond, Va.; and Roanoke-Lynchburg, Va., and features a correlating website of http://www.SeniorsGuideOnline.com. Seniors Guide's mission is to help seniors and their families find the information they need on options available in senior housing, senior care, assisted living, independent senior living, retirement communities and other retirement living needs. Seniors Guide also has resources at http://www.HomeCareChoice.com for Cincinnati, Ohio; Dayton, Ohio; Raleigh-Durham, N.C.; and Richmond, Va. Ross Publishing, Seniors Guide's parent company, began in 1991 and has been publishing helpful, free publications and websites ever since.