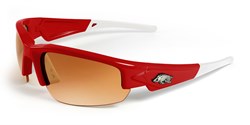 Monument, Colorado (PRWEB) December 12, 2013
Maxx HD® Sunglasses (Maxx HD®) has announced its partnership with the University of Arkansas Razorbacks Women's Softball team for the 2014 season. Maxx HD® will provide the team with patented Dynasty 2.0 style sunglasses in the Arkansas Cardinal and White team colors; including a raised metal Razorback logo, High Definition Lens, UV 400-100% protection and no slip rubber nose piece and arm grips.
"Maxx HD® is looking forward to building a strong relationship with the University of Arkansas and its athletic programs," said Rick Milner, CEO and President of Maxx HD® Sunglasses. "We know how competitive the SEC is; Maxx HD® believes it provides athletes with that extra edge of better vision with its sunglasses, ultimately helping overall performance and success on the field."
For more information on Maxx HD® products, visit our website at http://www.maxxsunglasses.com.
Contact: Travis Howell
Phone: (877) 550-8116
Email: travis(dot)howell(at)maxxsunglasses(dot)com