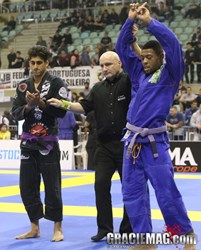 Camp Springs, MD (PRWEB) December 16, 2013
Tim Spriggs, a Brown Belt under Master Lloyd Irvin, is a fast rising star in the world of Brazilian Jiu Jitsu. In 2013, practically an unknown, Spriggs was well on his way to winning the Jiu Jitsu Grand Slam (The European Open, the Pans, the Brazilian Natls, and the Worlds all in one year). He had dominated the competition in Europe and in the US at the Pans, winning both tournaments at Purple belt Heavy weight division. However, before the Brazilian Nationals could arrive, Tim suffered a life threatening injury.
While training at Team Lloyd Irvin affiliate academy Crazy 88, Tim was accidentally kneed in the belly. Spriggs struggled through the rest of the training session, determined to tough it out. However, after a trip to the emergency room, it was discovered he had ruptured his spleen. Had Tim waited any longer, he may have lost his life. Instead, he lost the rest of the 2013 Brazilian Jiu Jitsu season. The injury put him out atleast 2 months and he missed the World championships.
This past summer, Spriggs was promoted to Brown belt, and focused his energies on the upcoming 2014 season. And he's come out the gates blazing! So far this year, Spriggs has won multiple IBJJF tournaments at brown belt men's Heavy division, and most notably he swept the invite-only Mens Brown Belt World Jiu Jitsu Expo.
The dominance shown at the Expo has gained the Lloyd Irvin fighter much popularity. As a result, Spriggs was invited the Copa Podio in Sao Paolo. The Copa Podio is a very prestigious invite-only tournament held in Brazil, where athletes compete in a Grand Prix style bracket. Usually, the tournament is reserved for Black belts only, but Spriggs will be among the first few brown belts to be invited. Other Jiu Jitsu stars that have competed in the Copa Podio include Leo Nogueria, Clark Gracie, Leondro Lo, and Claudio Calasans.
Spriggs usually trains at the Team Lloyd Irvin affiliate Crazy 88 Academy, but he's recently been making the 40 minute drive to Camp Springs to work with Master Lloyd Irvin directly. The one-on-one attention will certainly help Spriggs improve at a rapid pace, and Master Lloyd Irvin is confident that Spriggs will do very well and win the Worlds in 2014.
For more information on Tim Spriggs, Team Lloyd Irvin, or Master Lloyd, please visit http://www.lloydirvinlive.com or call 301-449-KICK, lines are open 24/7.