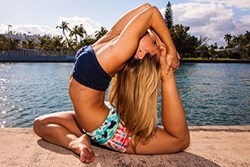 Teachers and classes offer support and now, with online yoga classes, people have access to the support they need for the inner journey 24 hours a day."
Charlotte, NC (PRWEB) December 18, 2013
YogaVibes, a top distributor of online yoga classes, is honored to present a growing collection of Ashtanga yoga videos with yoga inspiration, Kino MacGregor.
MacGregor is the youngest woman to receive certification to teach Ashtanga Yoga by its founder, Sri K. Pattabhi Jois. She earned that distinction at age 29, 10 years after taking her first yoga class. She has now completed Ashtanga's Third Series and is studying the Fourth Series.
Sharing the tradition with anyone inspired to practice, she is dedicated to carrying the torch of Ashtanga Yoga throughout the world. In 2006, she and her husband, Tim Feldman, founded the Miami Life Center, a community built around yoga, holistic health, and consciousness. They teach daily classes, workshops and intensives together there, in addition to maintaining an international teaching schedule. A life coach and Ph.D. student in holistic health with a Master's Degree from New York University, MacGregor integrates her commitment to consciousness and empowerment with her yoga teaching.
Why YogaVibes?
"My life's mission is to share the magic of Ashtanga Yoga with as many people as possible," says MacGregor. "More people are interested in the healing power of yoga, but not everyone can make it to a yoga class. Through the online classes available on YogaVibes, more people can experience the transformation that yoga offers right in the comfort of their own home. Yoga is inherently a personal journey. Teachers and classes offer support and now, with online yoga classes, people have access to the support they need for the inner journey 24 hours a day."
Join Kino for a magical and powerful journey, exploring the Primary Series - the foundational practice of Ashtanga that builds strength and flexibility while healing the body and calming the mind. Follow along to Sanskrit Vinyasa counts and detailed technical instruction for the postures. Stop at Supta Kurmasana, the great gateway pose that forms the crescendo of the Primary Series. Build strength and endurance of the mind and body. Be challenged. Surpass limitations. Feel full of energy. Spark true inner transformation. (122 mins.)
For more transformational practices in the traditional method of Ashtanga Yoga with Kino, visit YogaVibes.
ABOUT KINO MACGREGOR
Kino MacGregor is an international yoga teacher, author of two books, producer of six Ashtanga Yoga DVDs, writer, vlogger, world traveler, co-founder of Miami Life Center and founder of Miami Yoga Magazine . Her YouTube channel reached more than 2 million views within the last year. She is one of a select group of people to receive the Certification to teach Ashtanga Yoga by its founder Sri K. Pattabhi Jois in Mysore, India and practices through the Fourth Series of Ashtanga Yoga. For more on Kino, visit http://www.kinoyoga.com.
ABOUT YOGAVIBES
Looking for the best online yoga? Look no further! YogaVibes.com is an online realm for high-quality, authentic yoga classes and instructional videos captured in a real studio with real students. YogaVibes offers a diverse selection of online yoga classes from the best yoga teachers in the world, making learning and living yoga easy in everyday life. YogaVibes' mission: To create a supportive, challenging, and welcoming online community of passionate and inspiring yogis. Join now: http://www.YogaVibes.com.